New York City Council Extends Local Law 152 Inspection Deadlines for Boards & Building Owners
Capital Improvements Guide
For more information on how to complete local law projects and funding them, download our Capital Improvements guide using the form below.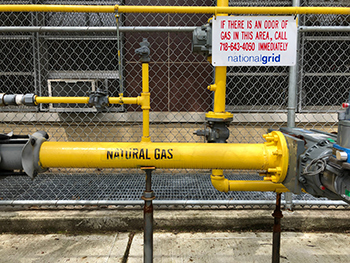 As of November 2021, the New York City Council has extended Local Law 152 gas pipeline inspection deadlines for boards and building owners. The extension,
officially known as INT 2321-A
, specifically impacts properties located in Community Districts 2, 5, 7, 13, and 18 in all boroughs, which were originally required to file certifications or inspections by December 31, 2021. Boards and building owners in those districts now have until June 30, 2022, to file their gas pipeline inspections with New York City's Department of Buildings (DOB).
Boards and buildings owners who have identified conditions that need to be corrected, but cannot correct these conditions by June 2022 may be granted an extension by the DOB. Buildings with gas piping systems, but without gas service, are no longer required to complete gas pipeline inspections. However, the board or building owner must provide certification from their utility company that the building is not receiving gas service.
The extension arrives in response to feedback from local Community Boards that a significant number of buildings in their districts were unable to meet initial inspection deadlines due to the effects of the COVID-19 pandemic, New York City's subsequent lockdown and a flurry new health and safety mandates that directly impacted multifamily residential buildings.

To help educate boards and building owners, the DOB will create and distribute a series of guides and memos offering best practices for hiring plumbers to perform required inspections. These materials are expected to be published by the end of 2021.

The penalty for failure to file remains set at $10,000 per building.

Why are Gas Pipeline Inspections Required for Multifamily Residential Buildings?
Local Law 152 of 2016 requires the periodic inspection of gas piping systems of all buildings at least once every four years. The law is one component of a
10-piece legislative package
designed to prevent dangerous gas leaks and pipeline explosions in New York City. Beyond inspection schedules, the legislation establishes fines for non-compliance and hazardous conditions, mandates the installation of combustible gas leak indicators or detection devices and defines how boards and building owners are expected to notify residents in the event of a gas leak.
For multifamily properties, this includes exposed gas piping outside and inside the building, in boiler rooms, in all amenity and common spaces, rooftop mechanical spaces and publicly-accessible areas. Mixed-use residential properties with additional components (i.e., retail, offices, community facilities, etc.) are also required to complete gas piping inspections.
The original legislation was prompted by a pair of gas explosions in the East Village in 2014 and East Harlem in 2015 that together injured nearly a 100 people and claimed ten lives. The fires that followed those explosions destroyed three buildings.
What are the New Deadlines for Buildings to Complete Gas Piping Inspections?
Initially, Local Law 152 filing deadlines were scheduled and organized by borough. In 2019, the filing deadlines were modified according to individual Community Districts in all boroughs.
As of November 2021, current deadlines are as follows: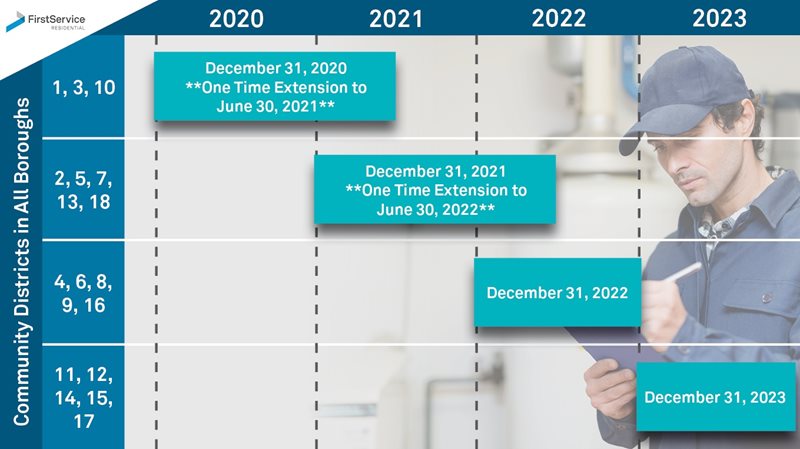 What Does a Local Law 152 Pipeline Inspection Entail?
All gas piping inspections must be completed by a New York City-Licensed Master Plumber (LMP) or a qualified individual working under the direct supervision of an LMP at least once every four years. Within 30 days of each inspection, the LMP must complete and deliver a
Gas Piping System Periodic Inspection Report
that details all results for the building owner or board to review. This report will include a list of conditions requiring correction, frayed or worn piping components that affect safe and reliable operation, non-code compliant installations or illegal connections, the detection of combustible gas and any other conditions determined to be unsafe by the LMP.
The LMP will also verify that portable combustible gas indicators and detection devices are present in the building.
Click here for a list of acceptable devices
approved by the New York State Department of Public Service.
No later than 60 days following a building's inspection date, the building owner must submit the inspection report to the DOB. Any reports submitted more than 60 days after the inspection date will require a new inspection
. Failure to submit a certified inspection will result in a $10,000 fine.
All inspection reports and certifications must be kept on file for 10 years and be made available to the DOB upon request.
Working with FirstService Residential
FirstService Residential's dedicated compliance department is well-versed in New York City local laws and regulations that impact the buildings in our management portfolio. Our property managers work hand-in-hand with our in-house compliance team to stay abreast of new legislation, addendums, critical deadlines and actions required to meet compliance. With the support of our compliance department, our team-based approach allows our property managers to devote more of their attention to managing the day-to-day operations of the properties under their care, and less time focused on administrative tasks. This includes the retention of
qualified contractors and inspectors
and the completion of DOB filings on-time or ahead of schedule.
Additional resources include:
If you're a board member or building owner looking to complete Local Law 152 inspections or have questions regarding compliance,
contact us today
.