Budgeting For Success: Managing the Rising Costs of Supplies, Labor and Insurance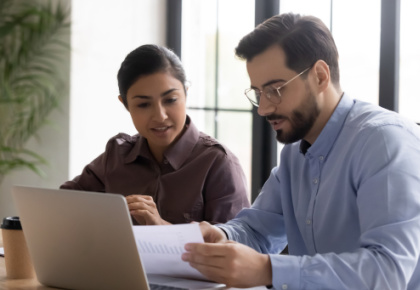 Your association's financial health depends on proper budgeting. As costs rise in just about every area of an association's budget, proper budgeting has become more challenging. So, what are some effective strategies to help you maintain a healthy budget?

Our industry experts from our latest Board Brief discussed how community associations are managing their budgets and shared tips for navigating rising costs. Read on to learn practical strategies you can implement to help you maximize your budget.
Materials and labor costs are on the rise

Community associations are struggling to keep supply costs down due to high inflation rates. In our survey of community associations in the Southeastern US, we asked what association boards were experiencing in terms of costs and availability of supplies and materials needed to operate. 58% said they can't get the materials they need; 14% can get them but can't afford them; and 74% said they are postponing projects due to the rising costs of materials and supplies. This can lead to project delays, which might mean even higher costs in the future. So how do you navigate it all? Start by taking a proactive approach to budgeting. Your professional property management company can suggest ways to minimize the impact to your association from unexpected cost increases.

To accomplish what needs to be done at the property level, condos and community associations may need to consider alternative funding resources. "One way we assist communities we manage is by working with them to obtain long-term financing to make capital projects more affordable," said Kim Pinillos, vice president at FirstService Residential. "FirstService Financial assists FirstService Residential clients in fulfilling their financing requirements at competitive interest rates and terms."

Staffing shortages and rising labor costs are also major challenges for associations today. The lack of available staff means your residents don't get the service level they expect and pay for, which can lead to resident dissatisfaction. In our survey, 43% of properties have vacancies, with 17% reporting that they cannot afford the staff they need, and 7% reporting that they have had to cut staff. The good news is that most boards realize how difficult it is to find and keep quality employees, and they are paying better wages, making concessions and adding perks and flexibility to keep good talent on the payroll.


"In the communities we serve, boards understand that overworked staff (working double duty to cover for open positions) can lead to burnout and can cause your remaining employees to quit. We encourage boards to remain flexible and to work with existing staff to make reasonable accommodations around schedules during this challenging time," said Pinillos.

Your property management company should keep you informed of labor market trends and wages so that you can attract and retain the best employees.
Materials and Labor Budgeting Strategies
Preparing your association's budget can be challenging when labor and materials costs are unpredictable. You can navigate higher costs by following these tips:

Tip 1. Make sure you get the best price on your supply and materials contracts by bidding them out. You shouldn't just assume you're getting a good deal. Make sure you ask a few suppliers for pricing each year so you can get the best deal.

Tip 2. Staff retention bonuses and other monetary incentives should be considered. "To retain staff, boards can focus on employee loyalty, offering retention bonuses rather than an increase in wages which may be more feasible until costs have stabilized," said Andrew Szaroleta, regional director at FirstService Residential. "Also look at next year's budget and wages forecast to create a plan to potentially adjust wages and stay competitive with the market – and keep your existing associates," he added.

In response to staffing challenges, some properties are implementing culture enhancements such as employee of the month programs, associate lunches, and gift cards.
Risks to consider
It is important to be aware of dangerous risks when using budgeting strategies to offset materials and labor costs. Communities delaying projects due to rising costs sometimes believe they can save money by completing the work themselves. As Szaroleta points out, associations should be cautious, ensuring that all projects are completed by licensed and certified contractors.

"You want a properly vetted professional who is qualified to do the job. Unqualified contractors who aren't insured can put your community at risk, creating potential liability for any damages or accidents that could occur," he said.

Also, associations should be very careful if considering staff reductions. You may think cutting maintenance staff is the best way to save money, but this may not be the wisest choice. Cutting resident-facing staff means service levels will be reduced, which typically has a directly inverse relationships with resident satisfaction. Cutting maintenance could expose your community to problems such as breakdowns and repeated repairs.

Finally, be sure to read the small print of any contract you sign to avoid being blindsided and locked into automatic increases.
Navigating Insurance Rate Increases
Insurance premiums are rising across the country, and budgeting for these higher costs has become increasingly difficult.

Several factors influence insurance costs, including litigation fraud, which has led some insurers not to renew specific policies and raise premiums for existing policies. Supply and demand and an overall increase in property values have also played significant roles. There are fewer insurers in the marketplace, but the demand for insurance remains high.

According to our recent survey, 46% of properties reported premium increases between 1% and 25%, which is good news; 33% of properties reported an increase between 26-49%; 13% reported an increase between 50-74%; 3% reported an increase between 75-99%; and 6% reported an increase between 100-149%.

So, how are communities navigating these increases? Communities are taking various measures to help offset higher premiums. Some have opted to pay their insurance in one lump sum to take advantage of discounts offered by their insurance company. Others have raised their community's dues to cover higher insurance costs. Some communities have secured lower insurance rates by weatherproofing their properties – demonstrating to insurance carriers that future claims are less likely. And still, others have implemented revenue-generating opportunities such as increasing parking and storage rental fees to afford the higher insurance costs.

Want to learn more about the factors driving insurance costs? Watch: Ask the Experts: Rising Costs in Association Insurance
Insurance Budgeting Strategies
No board member wants to be caught off guard by rising insurance costs. Here are 3 things you can do to help combat higher insurance premiums.

1. Get started early – at least 150 days before your policy renewal date. You'll need the time to do your homework and review insurance quotes.

2. When planning your budget, consider alternative financing options, such as a loan or a line of credit. FirstService Financial can provide a comprehensive insurance review to help communities optimize their budgets by finding the best coverage.

3. Keep a list of property improvements to share with carriers to get the best rates. Carriers will want to know about any updates or changes to your property. Even minor roof, electrical or plumbing updates should be noted. If you've installed impact glass or shutters, you'll also want to share this information with your agent. Agents are responsible for presenting your association in the best light to the insurer, providing it with the information it needs to feel comfortable insuring your property.

Contact FirstService Residential to get control of your budget and learn to navigate rising costs.