Talent and Supply Chain Disruptions
Two Shortages Are Significantly Affecting Community Associations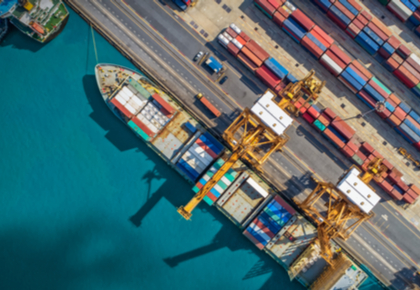 The shortage of goods triggered by the COVID-19 pandemic started in 2020, causing disruptions across every aspect of the global supply chain—from empty store shelves to clogged shipping lanes. Widespread manufacturing delays have affected consumers and industries around the world. The property management industry, which continues to experience material and labor shortages, has been significantly impacted. Let's take a look at how we got here.
How it all started
When the Covid-19 pandemic struck in early 2020, many people lost their jobs and restricted their activity. Businesses and stores were closed, and factories halted the production of goods as the world grappled with the first wave of the pandemic. As uncertainty about the severity and spread of the virus reached alarming levels, economic activity slowed, and consumer spending lagged. Industry experts expected this downturn would completely halt consumer spending, but consumer behavior changed instead. Instead of traveling, eating out at restaurants, and attending events, people dined in and turned to online shopping, purchasing items to make their home lives more comfortable. Consumers bought office furniture, electronics, gym equipment, and other supplies – in higher quantities than before the pandemic – entirely challenging the global supply chain. To make things even more complicated, as the economy began to reopen and vaccines became more widely available in 2021, the consumer demand for goods and services increased, coming close to pre-pandemic levels. This entire chain of events has led to an increasing disruption of the availability of goods, which continues to plague industries around the globe. It has also led to ongoing labor shortages in property management, an industry that has struggled to attract and retain high-quality workers.
As the world's largest exporter and producer of industrial goods, China has played a pivotal role in the supply chain disruptions. With a zero-tolerance Covid policy where spikes in infections result in total lockdowns, both production and transportation of goods are an ongoing challenge. Transit times from Chinese ports to the United States are long, taking around 44 days, up 175% from pre-pandemic transit times, which averaged about 16 days.

Property managers who rely on materials and quality labor are feeling the pinch of the disruptions. Here are two ways community associations are experiencing the effects of the labor and supply chain crisis:

1. Materials Shortages
Materials shortages affect and delay the completion of on-site projects, hurting operations. For example, a property might experience an elevator breakdown requiring a new part. A manager places the order for the part, and what should typically take a few days to arrive now takes weeks or even months, resulting in the elevator being down much longer than expected. Communities also see shortages in supplies such as chlorine and paint, struggling to find enough to complete minor and major property renovations. Air conditioning parts, glass, wood, and other construction materials are just a few additional products that have become more difficult to find. To add to that, the cost of products has soared due to inflation levels not seen since 1982, according to Trading Economics, an online resource providing economic indicators for 196 countries worldwide. Construction materials, machinery prices and even the cost of cleaning supplies have doubled, making association budgets more challenging to manage.

Some consumers are adapting to product shortages by buying more than they would buy when a product is available. This causes further disruptions to the supply chain. For example, a consumer, desperate to satisfy demand, purchases items in bulk to add a quantity buffer (think of the toilet paper crisis of 2021). This distortion in demand can result in an inflated demand, creating the 'Bullwhip effect.' In this phenomenon, demand changes at the end of a supply chain lead to inventory fluctuations along the chain, causing inventory control problems. Preventing this at the outset and minimizing actions that cause it are key, but as the supply chain issues are likely to continue well into 2022, community associations will have to utilize all of their resources to help mitigate the impact of the shortages.

"Fortunately, I'm able to leverage the strong relationships FirstService Residential has built with suppliers and service providers that I need to keep my community running smoothly," said Fred Perez, property manager of Bristol Tower in Miami.

2. Labor Shortages
By now, most people have heard of the labor shortages caused by the Great Resignation – the mass exodus of workers quitting their jobs to find happiness and a better work-life balance, within or out of the labor market. This shift has affected the hospitality and property management industries, as community associations find it increasingly difficult to secure and retain qualified employees. The sector remains under pressure to fill maintenance, janitorial, administrative, hospitality, reception, and front desk roles, which were already difficult in this competitive market. Many community associations are contracting out for these positions to mitigate the labor shortage's negative impact on operations. As these issues continue, community associations must find creative ways to retain talent.

"I believe now, more than ever, job seekers are looking for much more than a paycheck," said Rafael Cruz Estrada, senior director of talent management for FirstService Residential. "The Great Resignation has highlighted how important it is that we demonstrate what separates us from our competitors. We are continuously looking to improve our new and current associate experience by enhancing our onboarding journey, training, tools, processes and resources."
What to Expect in 2022
The increased demand for goods and services that led to the supply chain issues have caused current inflation, driving up prices. These rising costs affect community associations' budgets and may ultimately need to be passed on to residents.

"The greatest impacts we've seen are around inflation," said Amy Sanchez, vice president, FirstService Residential. "The cost of goods, services and utilities have increased drastically over the past 12-24 months, with associations experiencing 15%-20% rate hikes for insurance, utilities, and services. The greatest challenge will be for boards who focus on keeping costs low and/or avoiding increases in maintenance dues – and accepting that this may not be feasible moving forward."
As the world's manufacturing superpower, China continues to impose widespread lockdowns in an attempt to keep the Omicron variant at bay, causing companies and consumers to brace for more disruptions. And while some shortages are being quickly resolved, others appear to be lingering. Associations continue to deal with rising prices for raw materials, higher shipping costs, and extended delivery times. Manufacturers are closely watching to see if more factories and ports in China are forced to close due to the virus, further affecting the supply chain.

The Lunar New Year, also known as the Chinese New Year, started this year on Feb 1. The Chinese New Year is the country's biggest holiday, and many factories close during this time. Some analysts predict this might give warehouses, trucking companies, and ports a chance to catch up on backlogged orders, helping global supply chains return to normal.

The federal government is also taking more significant measures to help U.S. ports handle their backlog of containers, providing infrastructure funds to help alleviate bottlenecks.

Still, operational constraints are likely to persist throughout 2022, and community associations will need to adapt and stay flexible to ongoing changes, especially as the pandemic wears on.