FirstService Residential Welcomes The Westmoreland Cooperative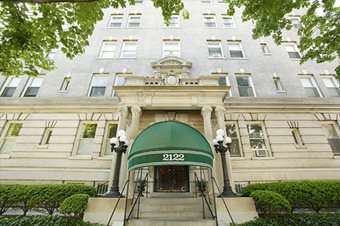 Bethesda, MD (December 5, 2022)
– FirstService Residential, the leading D.C. residential community management company, has started providing full-service property management services to The Westmoreland Cooperative in Washington, D.C.
"We're thrilled to announce our partnership with Westmoreland," said Michael Mendillo, president, FirstService Residential. "Our team's experience and knowledge of the local market will ensure a successful partnership with this impressive property for years to come
­­­
."
Built in 1905, this beaux-arts building is nestled in a quiet setting in the heart of the Kalorama Heights neighborhood, considered one of D.C.'s best addresses. The Westmoreland houses 60 units and boasts an elegant lobby and spectacular rooftop views. Many of the city's sights are within walking distance, while residents can still enjoy the peacefulness of the suburbs.
"The Westmoreland board was seeking a management partner committed to the continual development of its team members," said Trent Harrison, CMCA®, AMS®, PCAM®, president, MidAtlantic, FirstService Residential. "This level of commitment and our deep internal resources regarding community finances are a few reasons the board selected FirstService Residential.
About FirstService Residential
FirstService Residential is North America's property management leader, partnering with more than 8,600 communities across the U.S. and Canada, including low-, mid- and high-rise condominiums and cooperatives; single-family communities; master-planned, lifestyle and active-adult communities; and mixed-use and rental properties. HOAs, community associations and condos rely on their extensive experience, resources and local expertise to maximize property values and enhance their residents' lifestyles. Dedicated to making a difference, every day, FirstService Residential goes above and beyond to deliver exceptional service.
FirstService Residential is a subsidiary of FirstService Corporation (FSV), a North American leader in the property services sector. Visit www.fsresidential.com.