High-Rise Insurance: Seven Tips to Cover Your Property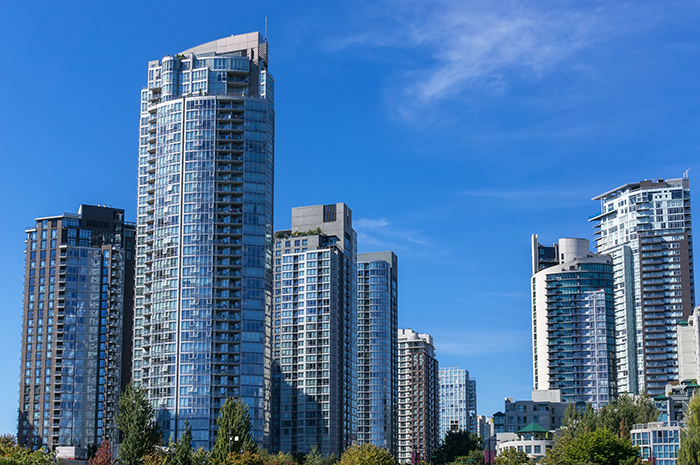 Life in a high-rise property has its rewards. With great amenities, good security, and even concierge services, there are many advantages that are specific to just this kind of lifestyle. Similarly, there are specific requirements when it comes to insuring it, too. High-rises often have multiple residences, each with their own policies, plus shared common spaces, which also require coverage.
"We find that high-rise association board members and residents alike can sometimes be unaware of the specific kinds of insurance coverage they need to stay protected," said Andrew Lester, president of FirstService Financial, an organization that offers best-in-class banking and insurance solutions solely to FirstService Residential-managed properties. "And in those cases, when a loss occurs and you are not covered properly, it can have a financial impact on the association and unit owners."
So if you are a high-rise property owner, resident or board member seeking the kind of peace of mind insurance is meant to offer, it is a good idea to make sure you have the proper coverage. Here are a few areas to help you determine if you and your high-rise community is adequately covered.
1. Mind the gaps.
In a high-rise condominium community, the responsibility for insurance coverage falls on two parties: the association and the owner. Each party has a specific accountability to cover certain aspects of the grounds and building. Put simply, the association purchases the property and liability policies that apply to common areas, such as the lobby, gym and pool, as well as the structure of the property, including, in most cases, from the "perimeter boundary walls out" of the individual units. It is the responsibility of the unit owners to cover everything from the finished surface of the "perimeter walls in. " Though specifics may vary from state to state or community to community, typically a unit owner will need to purchase insurance to cover upgrades beyond what constitutes a standard unit (as defined by your association's governing documents) as well as any personal items.
"The specifics of an association's policy vary," said Jamie George, insurance product manager for the West and Texas regions at FirstService Financial. "Owners should know what the association covers, so they can get a corresponding policy that ensures complete protection without any gaps in coverage. It should be a dynamic relationship."
2. Find an expert.
If you are a board member seeking to insure your community, going to just any insurance broker is not a good idea. "Time and again, we see agents who do not have experience in the high-rise condominium world, make big and often potentially costly mistakes," Lester said. "An insurance agent who is familiar with the construction industry for example, is not necessarily an expert in high-rise buildings." The reason? There are unique requirements, laws, regulations and required coverages that vary based on region and state, which apply to condominiums. Only agents with specific knowledge of the condominium industry in your market will have the knowledge to take these specifics into account and insure your association correctly.
That is why it is best to partner up with an experienced insurance brokerage firm that can draw on an extensive network of proven insurance carriers that specialize in your region and your type of property, high-rise in this case, and will therefore be better suited to find the product that provides the right coverage for you (at a competitive premium, too).
3. Consider value, not just savings.
Experts like FirstService Financial's South Region Vice-President, John Lee, caution against any decision based upon premium alone. "It is certainly possible for any association to find a policy at an extremely low cost," he said. "But does the policy provide adequate coverage? Are there gaps that expose you to risk? Is the deductible onerous? Is the program even the right fit? These are the questions you and your association board should be asking."
Rather than looking at the bottom line alone, Lee recommends considering
value
– getting the most coverage at the best possible rate. After all, insurance is meant to provide peace of mind, and if your policy does not give you that, even paying the lowest dollar amount is too much.
4. Look at all types of coverage.
HO-6
Unit owners, purchase an insurance policy called an "HO-6," which covers the "walls-in" contents of an individual unit, including upgrades beyond what is defined in your association's governing documents as the "standard unit." This policy packages property and liability coverage together. It also includes what is called "contingent assessment coverage" in Canada or "loss assessment coverage" in the U.S. Here is how that comes into play: if a loss occurs in an area that the association's policy should cover and there is still a significant out-of-pocket expense, the association assesses the individual owners to help make up the difference. If this occurs, your HO-6 policy could partially cover this specific type of special assessment.

Directors & Officers Liability
For high-rise association board members, you are usually required to purchase a Directors & Officers Liability policy. This coverage protects your board and building staff from legal damages. Most common claims include a board's failure to adhere to bylaws, disputes on architectural changes or vendor contract breaches. Directors & Officers can also be combined with Employment Practices Liability, which provides coverage for claims by employees and third parties from wrongful termination, harassment and discrimination.

Workers Compensation & Fidelity
Workers compensation and fidelity insurance (covering losses due to theft) are a wise move as well. Workers compensation not only covers employees and contractors, but you can opt to include coverage for volunteers too—with the Volunteer Compensation Endorsement. Your board should also consider purchasing Crime coverage, which protects the association from certain occurences of theft. Limits vary and bank account holdings can be significant, so it is important to buy adequate coverage that factors in all association assets.

Building Ordinance & Law
If your building was not recently built, another issue may come into play. It is more than likely that your city's building codes have changed significantly since your building was originally constructed. If the building sustains any damage due to an insurable loss, your policy will only cover repairs to the structure's original standards. In most cases, that means you will be left with a shortfall to bring the repairs up to code, and those costs can be surprisingly costly. An insurance solution for you to consider would be purchasing Building Ordinance & Law Coverage that specifically covers these required upgrades.

5. Do not put it on autopilot.
Insurance policies for both the association and individual unit owners should be reviewed by an expert annually. This is not a job for just anyone... in the same way you would seek expert advice on a tax return or a legal issue, you will want to make sure the policy audit is conducted by a qualified expert. Check your state law as there may be provisions which require periodic appraisals.
6. Minimize risk.
The cost of insurance is based on two things: the value of what is insured and the risk involved. The value of the insured property is a based upon the estimated cost of reconstruction. That leaves you only one option for controlling your costs: minimizing risk. A knowledgeable and professional property management company will be able to help.
7. Hire a good property management company.
The right property management company will make all the difference.
An organization with a national presence
has the depth of capabilities to offer risk management insight, along with larger buying power, so they can negotiate lower rates on behalf of their clients. They can also put you in touch with the right insurance brokerage firm – one with extensive knowledge of the statutes and regulations that can have a significant impact on the insurance products that will work best for you.
Nobody can anticipate disaster or loss, especially with all the complexities of living in a high-rise property. But the right insurance coverage – for both homeowners and associations – can help you sleep better at night, knowing you are prepared for it.