Should You Consider Moving to a High-Rise Condo?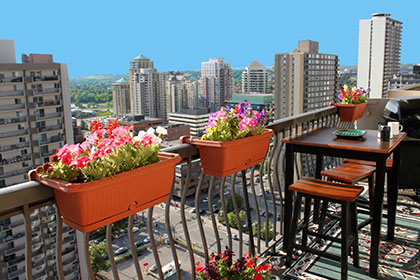 So you're searching for a new home, perhaps for the first time or maybe because you're ready to downsize. With so many options to choose from, you may be thinking about moving to a high-rise condominium. After all, you wouldn't have to cut the grass, shovel snow, or fix the roof in a high rise. But if you've never lived in one before, how do you know if it's the right choice for you? Here are some of the factors you should consider.
Condominium associations
Although not exclusive to high-rise buildings, condominium associations are pretty much the norm in these buildings. Homeowners elect a board of directors, which is responsible for the building's operations and maintenance, as well as for enforcement of rules and regulations. Although the association policies may restrict your ability to make loud noise into the wee hours of the night or to paint fuchsia-colored stripes across your front door, they also ensure other residents toe the line.
Many condo associations depend on the expertise of a professional condominium management company to help them with their responsibilities and protect residents' investments. Among the tasks that a management company might handle are maintenance and operation of the building so that it functions efficiently and remains clean and attractive. In addition, the company might field resident complaints, enforce rules, and manage the association's finances.
Amenities
Unlike single-family homes, high-rise condos offer a range of amenities right where you live. Fitness centers and swimming pools are common offerings. Many also provide 24-hour security.
In an upscale high-rise condominium, you might see lifestyle amenities like concierge and valet services, lounges, roof-top gardens and decks, fitness and yoga classes, and beauty and wellness services.
Condo fees
All those amenities that residents love and the services their building needs require money. That's where condo fees come in. Condo owners must pay fees on a regular basis for insurance, maintenance, repairs, staff, and upkeep. These fees also pay for the services of a condo management company, if one is hired. Although you may wonder if condo fees are worth it, consider what you would pay for the individual services and amenities they cover.
Location
Does an urban environment appeal to you? High-rise condominiums are usually located in cities, offering proximity to business districts and cultural venues, as well as great city views from the upper floors. A city location also makes it easier for you to get around on foot or with public transportation. Calgary, for example, has 165 bus routes and 44 CTrain stations along two lines (with free travel along one downtown section).
Parking
If having a car is a necessity, you may be glad to hear that many condominium buildings include indoor or outdoor parking. Whether you pay extra for this depends on the building. Some buildings may even allow you to buy or lease additional spaces if your allotment doesn't fit your needs. But with so many conveniences accessible in a city location, you may just find that you can give up having a car if you live in a high-rise condo.
Storage
Keep in mind that your living space in a high-building will probably have limited storage space. Although some buildings do offer additional storage space (sometimes at no additional cost), you may need to alter your lifestyle a bit to live in a high rise building—especially if you have accumulated a lot over the years. Consider reducing the amount of belongings you have or budgeting in the cost for additional storage.
Pets
According to the Canadian Animal Health Institute, 33 percent of Canadian households include at least one pet. To accommodate the popularity of pet ownership, many high-rise condos allow pets However, there are often limits on the number, size, and type of pet.
If you are a pet lover, you'll want to look for a building that allows you to share your condo with your furry family member. You may even find a building that offers
pet amenities
. If you'd rather not have barking dogs in your lobby, look for a building with pet restrictions.
Living in a high-rise condo can provide much enjoyment if you're suited to it. Before deciding if it's the right lifestyle for you, look around at what's available in your city and what each building offers.
For more information on condominium management services in high-rise condos,
contact FirstService Residential
, the leading condominium management company in Alberta.