FirstService Residential Wins Consumer Choice Award for 10th Consecutive Year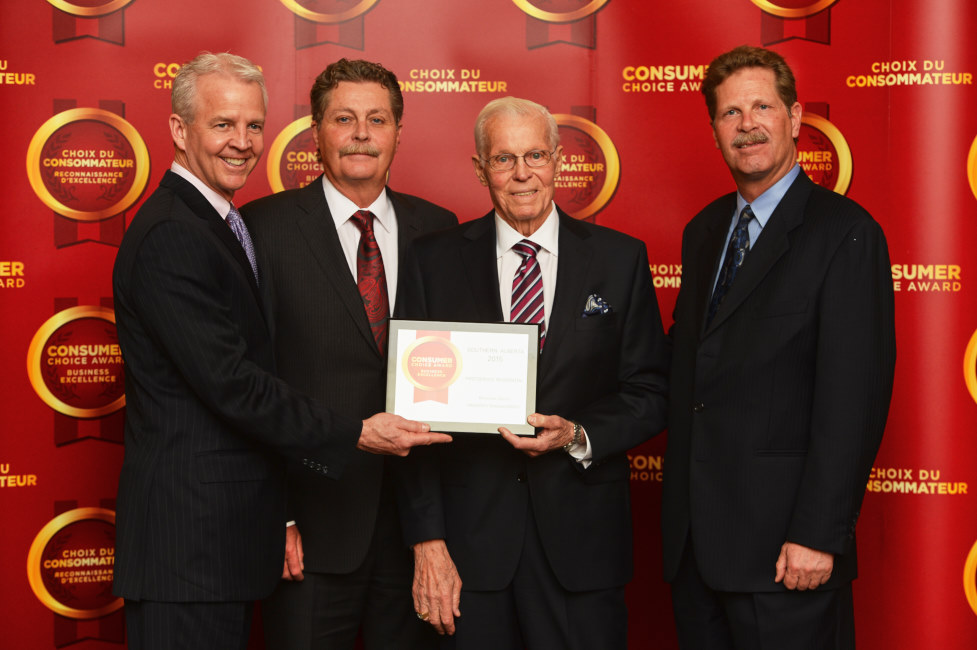 (left to right) Jack McFadden, CCA Chief Operating Officer presents the 2015 award to Doug Davies, VP Sales and Leasing; Bob Davies, Chairman Emeritus; and Roger Davies, President
FirstService Residential in Alberta
For the tenth consecutive year, Alberta's leading
condominium management
company FirstService Residential has won the 2015 Consumer Choice Award for Business Excellence in the Residential Property Management category. FirstService Residential has earned this prestigious award every year since 2006.
The award was presented at a gala April 11, 2015 held at the BMO Centre, Stampede Park in Calgary.
"We are very grateful to our customers, whose ongoing loyalty and dedication to FirstService Residential have once again made this significant achievement possible," said Roger Davies, president, "we sincerely thank them for their continued trust and for supporting our efforts since 1974."
Since 1987, the
Consumer Choice Awards
(CCA) have recognized businesses that deliver optimal value for their services and provide rewarding consumer experiences, as voted by thousands of consumers and businesses across Canada. CCA is the only organization in North America that identifies business excellence by conducting research via statistically accurate, independent surveys.
FirstService Residential delivers professional, full-service community management to a variety of condominium and homeowner associations. It has been a leader in the Alberta condominium property management industry since 1974. With offices in Calgary, Canmore, Edmonton and Fort McMurray, the company has earned the trust of a large portfolio of select condominium corporations, community associations and rental properties. Today FirstService Residential is recognized as one of the most innovative and successful condominium management companies in the industry.
About FirstService Residential
FirstService Residential in Alberta is a subsidiary of FirstService Corporation, a global leader in the rapidly growing real estate services sector, one of the largest markets in the world. As the leading property management company in North America, FirstService Residential oversees more than 6,500 residential and commercial associations including 1.5 million residential units and over 50 million square feet of commercial space across 21 U.S. states and three provinces in Canada. The company has more than 12,000 employees driving local market expertise and manages in excess of $6 billion in annual budgets. For more information,
visit www.fsresidential.com
.