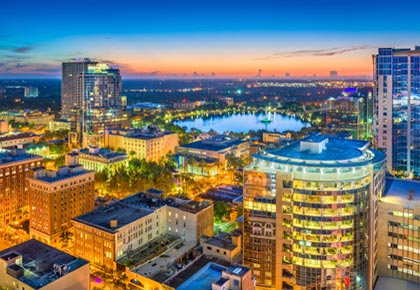 The city of Orlando, Florida, has a lot to offer to both travelers and residents alike. With over a hundred attractions and thousands of restaurants, Orlando has grown from what was once an agricultural center to a vivid metropolis of both fun and business. FirstService Residential has valuable expertise in Orlando residential property management associations and what communities need to enhance their lifestyles in this mixed setting.

With an influx of residents since the opening of large theme parks in the 1970's, the Orlando housing and real-estate market has also vastly changed. Development of both condominiums and single-family homes has skyrocketed, creating a need
for true customized property management services that take into account the dynamic nature of the area.

FirstService Residential proudly provides Orlando residential property management associations services to communities of all types and sizes throughout the city including neighborhoods like Winter Park, Celebration, College Park, and Lake Nona.
FirstService Residential's comprehensive Orlando property management services include:
Unmatched services such as our Five-Star concierge service
Minimized expenses by negotiating better terms with current and new vendors
Maximized returns on reserve and operating accounts with our preferred banking relationships
Decades of property management experience
The industry's most advanced and accurate accounting tools
FirstService Residential Orlando Property Management Office
Address
2300 Maitland Center Parkway, Suite 101
Maitland, FL 32751

Telephone
(407) 644.0010

Business Hours
Monday to Friday, 9:00 am to 5:00 pm

Ready to get started with first-in-class Orlando property management? Contact us today to learn more about how FirstService Residential can meet the needs of your community.
Get in touch
Let us show you how FirstService Residential can serve your community