Preventing fires in buildings: 6 tips to help keep your property safe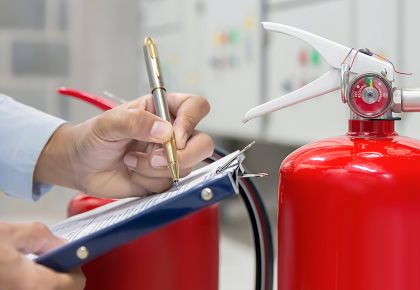 One of the biggest threats to human life is fire. Fires can strike without warning, burning through buildings, destroying property, and claiming precious lives in mere minutes. Fires can also cause billions of dollars in property damage.

According to the United States Fire Administration (USFA), an estimated 368,500 residential building fires were reported from 2017 to 2019. These fires caused 2,770 deaths, 11,650 injuries and $8.1 billion in property loss. Residential building fires are more common than most people realize, and preparation should be taken seriously. Whether it's a high-rise, condo or townhouse, fire can spread rapidly through buildings and units with shared walls, floors, or ceilings.

Did you know that October 8 through 14 is fire prevention week? For more comprehensive fire safety tips, information and resources, visit the National Fire Protection Agency (NFPA) website.

Educating building residents about potential hazards is vital to fire prevention. Below are 6 fire prevention tips to keep your property safe.
Tip #1. Spread fire safety awareness
Promote fire safety awareness in your community by starting with the basics. Inform residents about the potential for fires to start unexpectedly, emphasizing fire prevention readiness. Stress the significance of establishing an evacuation plan that includes exit routes and a reunion point outside the building.

Ensure that the information is effectively disseminated using all available communication channels. Post flyers in common areas, and share information via email, at community meetings and on your website.

An incoming resident moving into the building is a perfect opportunity to inform them about fire safety expectations and protocols. Ensure they are enrolled in your emergency mass communication system when they move in. FirstService Residential employs Resident Alert, an emergency communication tool within FirstService Residential Connect™, the company's proprietary management software, that enables immediate communication with residents, ensuring they are consistently informed.

Your property management company should have tools to get critical information to residents quickly and easily. Read our post-Hurricane Irma resident communication success story about how our team communicated with residents before, during and after the storm.
Tip #2. Get to know your local fire department
Most fire departments are committed to promoting fire safety awareness and are willing to provide educational resources and presentations to the residents of your community. Contact them to request a fire safety presentation or educational workshop for residents. Ask them about topics or areas you'd like the presentation to cover – for example, home fire prevention, evacuation procedures, or the importance of smoke detectors. Bring up fire safety concerns and ask how to address them before they become serious issues. Working with your local fire department can foster a sense of community trust and collaboration, enhancing overall safety and emergency preparedness in your community.
Tip #3. Remind residents about common fire hazards
There are several common residential fire hazards that homeowners need to be aware of to help prevent fires and ensure the safety of their households and their neighbors. Common hazards include:
Cooking: According to the USFA, unattended cooking is a leading cause of home fires. Grease fires, stovetop burner accidents, and flammable materials left too close to the stove can all result in kitchen fires.

Heating equipment: Space heaters, furnaces, and wood-burning stoves can pose fire hazards if not used and maintained properly.

Candles: Unattended or improperly placed candles can start fires if they tip over or ignite nearby flammable materials.

Smoking: Careless disposal of cigarettes or improperly extinguished smoking materials can lead to fires, especially in dry or windy conditions.
Consider hosting a meeting or Town Hall to discuss these hazards and fire safety protocols. Gatherings such as these allow residents to ask questions and get clarification.
"Reminding residents about potential fire hazards isn't just about compliance or obligation, it's also about caring," said Katharine Effron, vice president at FirstService Residential. "We assist the association with creating a safe environment for everyone, starting with raising awareness of these risks and taking the necessary steps to mitigate them."
Tip #4. Test your equipment on a regular basis
Fire equipment in your building should be maintained and regularly tested to ensure it functions correctly. This includes fire alarms and extinguishers, sprinkler and emergency lighting systems, and fire doors. Encourage residents to do the same within their units, checking and testing their smoke and carbon monoxide detectors.
Tip #5. Share your emergency plan
Sometimes known as an emergency response plan, an emergency plan for your community is a guide specifying the exact procedures for managing and handling emergency situations such as fires. It's important to share this information with your community as it outlines the necessary steps to take in case of a fire. These steps should include building evacuation plans and who to contact for help. Guidelines such as these will allow residents to act quickly, minimizing the risk of loss of life in an emergency.
Tip #6. Become familiar with the fire codes in your municipality
Fire codes are designed to prevent fires from occurring or to minimize their damage if they do occur. Are you familiar with the fire codes in your municipality? Like most laws, they vary according to location. Each state has fire codes tailored to its specific conditions and needs. In Florida, associations must ensure that their buildings are in compliance with the requirements of the Florida's Fire Prevention Code (FFPC). The FFPC is updated every three years and enforced by fire officials within each county, municipality and special fire district in the state. Ensuring your community complies with fire codes is crucial for fire prevention and to avoid violations that may result in fines.
If you're on the board of a high-rise condominium in Florida, you may know that the FFPC requires that condo buildings without an automatic sprinkler system be retrofitted with one or install an Engineered Life Safety System (ELSS). An ELSS provides protection equal to or better than a complete fire sprinkler system. An ELSS may include a partial automatic fire sprinkler system in common areas, at least one sprinkler head through the front door of each dwelling unit, integrated smoke detection, smoke control and a smoke alarm system, and approved compartmentation to restrict fire spread throughout the building. Work with your association's attorney and property management partner to understand your building requirements.
Fires can have devastating consequences, and prevention is always the best defense. By sharing fire safety awareness and prevention strategies, you can empower residents to protect themselves and their properties from this ever-present threat.
If you want to discover how a professional property management company can help your building prepare for a fire or other emergency, contact FirstService Residential.