Stop! Before You Raise Assessment Fees, Consider These Cost Containment Strategies
Want to get the most out of your budget?
Download our guide, Find Your Way to a Better Budget.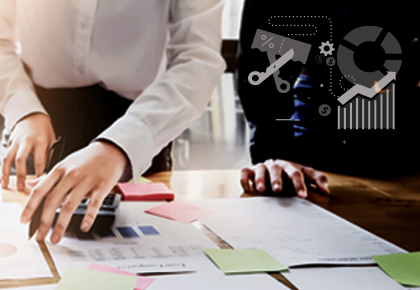 Your association board is working on next year's budget. You know how important it is, what it means to the future and financial health of your community. As members of the board, you know that managing the association's money wisely is the most important commitment you make to your fellow homeowners. So you've done everything right: planned and followed all the budgeting steps. Despite your efforts, you're still staring at the one thing NO association board wants to do: an increase in assessment fees. Before implementing that increase, check out some cost containment strategies that can save your community association money and optimize your operating budget.

What exactly is cost containment? Cost containment is maintaining or reducing expense levels so you can get the most for your money and hopefully reduce the need for assessment increases. What are some of the areas you may be able to save?
Vendor Contracts
Do you review your vendor contracts on a regular basis or do they renew automatically? Does your management company review them? More than 57% of board members say they are not sure if their management companies take this important step, but this is not the time to take a "set it and forget it" approach. Going through your contracts may reveal places you can save money. Or it may show opportunities for your association to get more for the same dollars, perhaps saving elsewhere.

Go through your contracts and find where you're paying too much. Think about pool services, for example. Are you paying for higher-end services than you need or for unnecessary services? Maybe services you needed once and forgot to cancel? Are you just being overcharged? Armed with that information, your board and management can contact your vendors and negotiate better pricing, or find a new resource if necessary. A management company with a depth of resources will have a roster of vendors available to help you find the best fit for your association's budget.
Energy
How much energy does your association use in common areas? Are you using traditional lightbulbs in high-rise hallways or the clubhouse? Are the lights on in the gym when no one is using it? Is your hot tub or pool a few degrees too warm? Are you using the most efficient pool heater for your location and type of property? Do your parking garage fans stay on when not needed? Are there areas of your community with excessive outdoor or landscape lighting? You may find hidden savings in any or all of these areas.

Some, like changing from traditional lighting to LED lighting, require an upfront investment but pay off that investment very quickly, resulting in long-term savings in energy, maintenance and staffing. Others, like putting light switches on motion detectors so that the lights can't be left on with no one in the room or changing the temperature of the swimming pool, don't require much investment to start to see savings. Josh Gilmer, manager of the Realm Condominium in Atlanta, said that his community will recoup its investment in LED lighting in just 1 1/2 years, thanks to the money saved on electric bills.

Your quality property management company may have resources that can help your community identify places to save money and energy. Most electric and gas companies offer energy audits to their customers as well. Check out the Georgia Power and Georgia Natural Gas websites for information.
Financial Services
Where and how is your reserve fund invested? IS your reserve fund invested? Almost 35% of board members tell us that they are not confident they are getting the best returns on their reserve fund investments. Make sure your money is working as it hard as it can for your association. Investing your money into accounts with higher rates of return can result in thousands of dollars a year for your association. You may be able to save on your banking fees as well, saving money at the same time.

When did you last have your insurance audited? Are you covered correctly? If your property management company is large enough, they may be able to leverage volume of business to get your association a better rate or more coverage for the same money. Having the right insurance doesn't just mean getting the lowest premium. Low premiums often come with high deductibles. It may be in your best interest to pay a little more each month and be better covered in the event of a disaster, or maybe not. Don't set your policies to auto-renew – every year, work with your licensed broker or agent to assess your coverage and make sure that it is current and appropriate.

Your property management company may be able to use those lending relationships to help your association save on a needed loan as well. FirstService Financial is the financial services affiliate of FirstService Residential. "One of our communities, Spire Residential, needed a loan for an unexpected project. Working with FirstService Financial's recommendations, they were able to borrow $850,000 at a great interest rate and for only $500 in closing costs," explained Jorge Dominquez, regional director at FirstService Residential. "The process took less than 30 days, start to finish, and the board was pleased to have this option rather than depleting their reserves or levying an assessment." That great interest rate saved the board long-term on a needed financial service.

All of these things can help your association cut costs and avoid, or at least reduce, the amount of assessment increase you need to implement to meet your association's budget needs. We know you don't want to increase assessment fees for your homeowners. Taking a look at where you can contain costs is a good step toward not having to.

For more information on how a professional property management company can help your association save money on insurance, financial services, energy and more, contact us today!