Riding the Storm Out: How Your Property Management Company Can Help With Hurricane Planning
Until recently, only community associations on the east and gulf coasts of the United States worried about preparing for hurricanes. In recent years, hurricanes have become so large that they can affect the entire state of Florida and move well into Georgia – Hurricane Irma in September 2017 proved that! While storms may not be as intense in Georgia, communities may still lose power, flood or sustain landscaping damage.

At Cresswind at Lake Lanier, Hurricane Irma caused about $200,000 in damage, most of which was downed trees. Gary Hulion, general manager, hails from the Gulf Coast of Florida, so he has plenty of experience preparing for severe storms. "We spent a couple of days ahead of the impact, making sure that everything was tied down or stored away," he explains. "Other than the downed trees, Irma's damage was a few missing shingles. About three days before we knew where Irma was going, I started to send emails to the community, telling them what to do and what to expect. At first, some scoffed, but they soon realized that I had enough experience to know what was coming. This year, we've thinned trees and done preventative pruning in anticipation of the season. Irma got everyone's attention."

Your professional property management company can help your board prepare for a storm of any intensity, well before the season even starts. Here's how:

Making your plan.
A professional property management company should have the experience and knowledge to help your board create a plan for how to best secure your property, to communicate important updates to residents and how to respond in the aftermath of the storm. Rely on them to work with your board to create a plan for your community and deploy it.

Communicating to your residents.
Your property management company should have the technology to help you communicate important information, including evacuation orders, to your residents via phone, email and text – before, during and after the storm. They will also use that technology to continually update your board with the progress of repairs and other post-storm work as well.

Securing vendor relationships.
Will your landscaper, plumber and other vital contractors be available after a storm? This is a good time to review your contracts and make sure your needs will be met. A larger management company will be able to leverage its size to guarantee the services you need are available when you need them.

Ensuring you have the right insurance.
Is your association properly covered? How do you know? What are your deductibles and can you cover them? A good property manager will work with your insurance broker and board to evaluate your coverage every year and make sure it is adequate. Again, a larger company may help your association get better rates, thanks to its buying power.

Building great relationships.
Contract or no, vendors – including insurance agents and public adjustors – will want to help clients they like the most, first. Of course, your manager may work most closely with these vendors and will be building those relationships for you. But as board members, you can do that too, getting to know the vendors who serve your community the most.

Protecting your finances.
Can you pay your association's bills electronically and remotely if no one is available to sign them or if the power is out long term in your office? Does your management company have banking relationships to help you get an emergency line of credit if you need it? These important matters need to be addressed before the start of storm season.

Backing up your data.
Offsite storage is essential to protecting your association's financial data if your local computers are damaged in a storm. If your property management company handles your accounting and financials, that's partially taken care of for you through their offices. Store other digital files in the cloud and make sure board members can access them if the property manager isn't available. Paper files should be copied and stored offsite where board members can access them, such as a bank safety deposit box.

Training your staff.
A good management company will train your onsite employees to know their roles in the event of an impending storm. Clear instructions and a chain of command make a stressful time a little easier. Be sure that management will cross-train your staff if some team members are stuck after the storm and unable to get back to the property.

Documenting your assets.
Your manager should make sure that all of your community's assets are video recorded and photographed well before storm season. Board members can do this too – take photos any time you're walking around the property. It's critical that the images are encoded with the dates and times they were taken. Smart phones do this automatically; if you're using a digital or film camera, make sure the date and time are set correctly and will record. This will be invaluable if you have to file an insurance claim.

Checking and double-checking.
Test your generators and make sure you have adequate fuel on hand. Check emergency supplies and replace expired stock. Increase landscaping efforts to make sure that trees are trimmed and debris is removed regularly. It's too late to perform maintenance once a storm is headed your way, so work with your manager to have important tasks done before hurricane season starts. Drill everyone on the board and staff to ensure that they know what's expected of them when a storm is on the way. The board and manager can team up to accomplish these tasks.

Hurricanes are stressful, to say the least. Having the right professionals on your side – with the right experience – can make all the difference in just how stressful that will be. Make sure that your property management company can do what you need it to do before any storm appears on the horizon.

To get informational articles like this one delivered to your inbox, fill out the form on the right.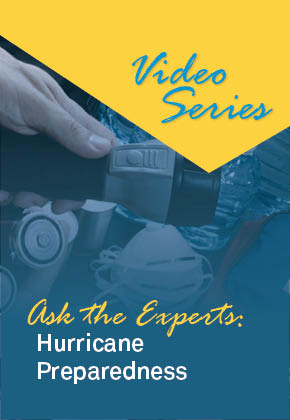 Watch the full video
Is your community association prepared for hurricane season? Access our Hurricane Preparedness video.
Watch now