Elevated Gold Coast Property Management
FirstService Residential has been providing specialized Gold Coast property management and condo management services for decades.
About the Area
With restaurants, entertainment venues and an easy commute to all New York City has to offer, New Jersey's Gold Coast offers its residents a vibrant lifestyle… and an amazing skyline view. High-rise, mid-rise and townhome communities line the Hudson River waterfront throughout Bergen and Hudson counties with dramatic architecture and resort-style amenities.
New Jersey's Gold Coast consists of a string of communities on the west bank of the Hudson River, across from New York City in Hudson and Bergen counties. The term is a relatively new one and was coined by real estate agents, brokers, and developers in the 1980s who realized the investment potential of the area. It is infrequently, if ever, used outside the context of real-estate sales and marketing.
A more commonly used collective name is the Hudson Waterfront, or simply The Waterfront, or sometimes the "Jersey waterfront", or farther north, "the Palisades". The New Jersey Department of Tourism considers it to be part of the state's Gateway Region. Physically it is the Bayonne Peninsula, lying between the Hudson and the New Jersey Meadowlands. Most residents just refer to the town or neighborhood, and occasionally the name of the development, where they live or work. This may have to do with the fact that though this geographically long narrow region is a contiguous urban area (where it's often difficult to know when one's crossed a civic boundary), each of the municipalities has its own government and school district, with which the citizens identify. Few people travel very far along its length to work, school, or to shop or socialize, more often heading east to New York City or further west into New Jersey.
Stretched along the Hudson, The Waterfront offers Manhattan views from its promenade and battery of upscale condo buildings. A candy-striped lighthouse and a 9/11 memorial face the spot where the Twin Towers stood. Mainstream shops fill Newport Center mall, while partially pedestrianized Newark Avenue is chockablock with taverns, taquerias, and New American eateries. The Museum of Russian Art shows Soviet-era works.
History of the Region
During the latter half of the 19th and early part of the 20th centuries, the region experienced intense growth, due largely to the many railroad terminals and maritime facilities built there and to the extensive immigration to the USA, especially via Ellis Island, which is in its waters. Before the construction, 1910, of the Pennsylvania Railroad's North River Tunnels under the Hudson, railroads terminated on the west bank of the river, requiring passengers and cargo to travel by ferry or barge to Manhattan. This development of ports in Jersey City, Bayonne, Hoboken,and Weehawken resulted in intense industrial and residential development in the area.

Containerization and the construction of tunnels and bridges into Manhattan, coupled with the growing preference for road travel over railroads or boats, spelled the end of the railroads and ports. Most of the ports along the Hudson and Lower New York Bay were shut down, while nearly all the railroad terminals closed. The only remaining railroad terminal currently in operation along the Gold Coast is Hoboken Terminal, which serves as a terminus for many New Jersey Transit commuter trains. As much of the capital and wealth fled the region after World War II, the area experienced a major downturn, which lasted through to the late-1990s.
What the Region is Like Today
Today, it is primarily made up of established urban communities that were commercial/industrial in nature throughout the 20th century, though some areas were high-density bedroom communities. The area is currently experiencing intensive economic development, consisting largely of high-density residential buildings, office towers, and retail centers. Some of this development is on brownfields that were once factories, warehouses, docks, and rail yards. Existing housing stock, made up mostly of high-density detached homes, old brownstones/rowhouses and converted industrial spaces, has been revitalized — particularly in areas near to public transportation corridors. Additionally, the area is seeing new residential development, in the form of single-family housing, multi-family apartments, and condominiums. Today, the Gold Coast has some of the most valuable real estate in the state.

The Gold Coast communities are very urban and have some of the highest residential densities in the United States. However, the communities remain fragmented, due in part to New Jersey's long history of home rule local government. Within these communities exist distinct neighborhoods and shopping districts, formed in part due to isolation caused by Hudson River inlets, the cliffs of the New Jersey Palisades and rail lines.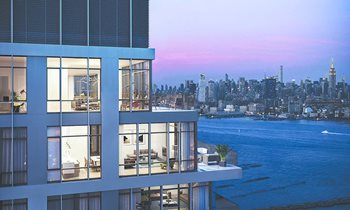 FirstService Residential, the leading Gold Coast property management company, has been providing unique, tailored management services to condo associations, co-ops, and homeowner associations in this region for 30 years. Our proactive partnership approach protects your investment while allowing you to enjoy your lifestyle.
You can look to us for all your Gold Coast property management needs, including:
• Preventative maintenance programs to increase longevity, effectiveness and cost-efficiency of building systems and equipment
• Custom Emergency and Asset Manuals
• Frequent property inspections and implementation of a work order system using mobile technology
• Management systems for amenity reservations, visitors, even package tracking
• Transparent accounting and financial services, including leveraged buying power for cost containment
• Dedicated service to Board members, owners and residents through customer-focused associates and our 24/7 customer care center
• Training, development and supervision of on-site personnel

You can learn more about what our customers say here!

Contact us today and let FirstService Residential customize a Gold Coast property management solution for your association.
Get in touch
Let us show you how FirstService Residential can serve your community