The Leading Property Management Company in Northern New Jersey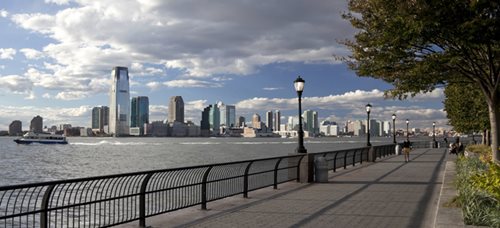 For more than 30 years, FirstService Residential has been the leading property management company in Northern New Jersey, providing Newark property management services and serving various other hubs throughout Northern New Jersey and throughout the Gold Coast.
FirstService Residential's team of highly trained and localized New Jersey property management professionals have been proudly providing services to areas throughout northern New Jersey, such as:
Hoboken property management
Jersey City property management
Fort Lee property management
Newark property management
And more!
Pro tip
: Learn more about HOA board alignment in the video above!
Learn More About Northern New Jersey Properties
New Jersey, one of the gems of the Northeast, is comprised of some 130 miles of Atlantic coast. Jersey City, across the Hudson River from Lower Manhattan, is the site of Liberty State Park, where ferries embark for nearby Ellis Island, with its historic Immigration Museum, and the iconic Statue of Liberty. The Jersey Shore includes notable resort towns like historic Asbury Park and Cape May, with its preserved Victorian building.
North Jersey (or Northern NJ) is one of the most beautiful places to live in the United States. With scenic views, beautiful homes and lots of amenities, millions of people are lucky enough to call the northern part of New Jersey home. Historic sites, lakes, rivers and hiking trails all nestled in the midst of Fortune 500 companies and public transportation to nearby cities makes Northern New Jersey a prime location for residential communities. From single family homes to townhome communities and condos, FirstService Residential has been making a difference every day by providing Fort Lee property management services, Newark property management services and more throughout the region. In fact, our team has been serving New Jersey community associations and Northern NJ for 30 years, allowing residents the peace of mind to focus on the lifestyle that is important to them. We take a partnership approach to protecting the value of your home by taking care of all of your association management needs.
FirstService Residential is the leading full-service property management firm with New Jersey offices in Eatontown, Mount Laurel and Fort Lee, as well as offices throughout Pennsylvania. We specialize in providing management services to homeowner associations and condominium associations.
A New Jersey management company such as FirstService Residential gives you direct access to localized HOA specialists who can assist you with managing your HOA and NJ property management needs. We are the leading property and HOA management company in New Jersey.
No other New Jersey management company has the depth of resources, knowledge, expertise and subject matter experts like FirstService Residential. There are few if any property management and maintenance companies in the state that might be able to do as excellent a job at managing your New Jersey HOA or community.
If any other New Jersey management company has disappointed you, you can rely on FirstService Residential to offer the leading level of service as our NJ property management firm. It is difficult to find any other property management companies in NJ that will outperform us.
Check out our New Jersey offices here!
Our Northern New Jersey Property Management Services include Best-in-Class Services like:
• Transparent and timely financial reporting
• Frequent property inspections and fair enforcement of community standards
• Vendor management as well as combined buying power to save you money
• User-friendly communication tools connecting board members, residents, and the management company. We know that board members are dedicated volunteers, giving of their time and energy to make their communities better. FirstService Residential Connect™ will make that job easier. Use Connect to keep in touch with your community and on top of board business – any time, from any device.
• Lifestyle services including amenity, lifestyle, health and wellness programs


Listen to What Our Customers Say
"Thank you so much for your hard work. You are really always on top of everything. I don't know if anyone lets you know that it is greatly appreciated. I know it's not easy pleasing everyone but in ours, and a lot of our neighbors opinions, you're doing a great job and we appreciate it!"
Click here to read more testimonials from FirstService Residential board members!
Connect with a New Jersey Property Management Specialist Today!
Have questions about New Jersey HOA management? Want to learn more about how an HOA Board is run? Or simply need some help distinguishing property types? Our Property Management Frequently Asked Questions (FAQs) page provides a wealth of information for homeowners, HOA Board Members, developers and vendors. As the leading property management company in New Jersey (as well as North America), FirstService Residential has vast experience developing best practices and has gathered extensive industry expertise. Benefit from our knowledge and experience by using the links below. If you want downloadable, in-depth guides, shareable infographics or success stories about other communities we've partnered with, visit our resource library. For articles on a range of property management topics, check our knowledge base.
There are plenty of affordable options in North Jersey. If you're looking to move to the NYC area, then consider locating on the Hudson River's west side. You'll find that you'll get more bang for your buck!
If you would like to learn more about these towns and get more information on the properties within them, contact us! Our team of localized experts would love to hear about how they can help you achieve your New Jersey property management goals.
Contact us to learn more about how FirstService Residential's specialized, full-service Northern New Jersey property management services can benefit your community.
Get in touch
Let us show you how FirstService Residential can serve your community