Lori Kenyon Promoted to FirstService Residential Vice President, Human Resources
TORONTO, ON (Mar 8, 2022) FirstService Residential, Ontario's leading property management company has promoted Lori Kenyon to the role of Vice President, Human Resources.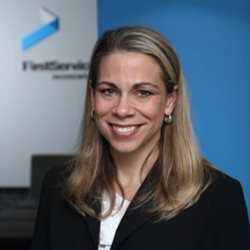 Lori first joined FirstService Residential Ontario in 2016, and in that time helped launch several new training programs, technology platforms and has made significant strides in how FirstService Residential attracts, maintains, and grows top talent in the industry. Lori has truly embodied how to Own It and with over 20+ years of experience in HR and Operations she will continue to do so in her new role.

"Lori's promotion to Vice President, Human Resources, ensures our HR department is being led by a strong and strategic thinker that can provide valuable guidance on all people practices," said Mark Hopkins, president of FirstService Residential Ontario. "We value the dedication and leadership Lori brought to her previous role and are confident in her abilities to drive our corporate initiatives and continue to make this a great place to work."

"I am proud to be part of an organization that believes our competitive advantage is in our ability to attract and select a diverse workforce and is prepared to invest time and resources into associate development," said Kenyon. "I look forward to continuing to work with such a passionate and dedicated team in my new role, ensuring we make the right investments for people so we can continue to be a great place to work!"

About FirstService Residential
FirstService Residential is North America's property management leader, partnering with 8,000 communities across the U.S. and Canada, including low-, mid- and high-rise condominiums and cooperatives; single-family communities; master-planned, lifestyle and active adult communities; and mixed-use and rental properties. HOAs, community associations and condos rely on their extensive experience, resources and local expertise to maximize property values and enhance their residents' lifestyles.

Dedicated to making a difference, every day, FirstService Residential goes above and beyond to deliver exceptional service. FirstService Residential is a subsidiary of FirstService Corporation (FSV), a North American leader in the property services sector. For more information, visit www.fsresidential.com.