2023 Texas Hurricane Guide for HOAs and COAs
Download your 2023 Texas Hurricane Guide below.
Did you know Texas ranks in the top 3 most hurricane prone states? Hurricanes can happen any time, but we're more likely to see them in the summer and fall. Download our free guide to resources, emergency checklists, and solutions to keep your community safe and offset the impact of severe weather.
Texans are no strangers to hurricanes.
Between June and November, hurricane season is in full effect for coastal cities, especially Texas. In fact, our Lone Star State ranks within the top three most hurricane prone states in America (according to AccuWeather). But Texans are prepared to weather any storm, and this guide will help you do just that - no matter your property type or size.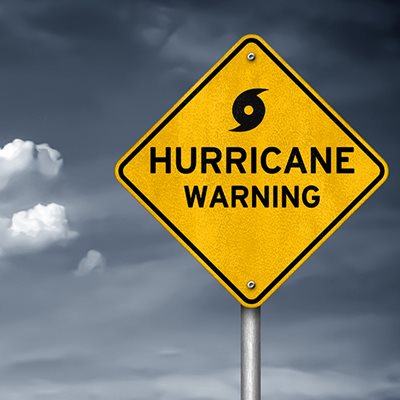 FAQs: Hurricanes & Available Resources
What's a tropical storm watch?
When conditions can develop a tropical storm, a watch is issued usually within 48 hours. In other words, they indicate the possibility of such conditions.
What's a tropical storm warning?
When winds exceed the criteria set for a tropical storm watch, a warning is issued within 36 hours. Such winds may also result in coastal flooding and storm surges.
What's a hurricane watch?
An announcement is made 48 hours prior to the expected hurricane-force winds, indicating the possibility of hurricane conditions in your area.
What's a hurricane warning?
An announcement is issued 36 hours prior to the expected arrival of hurricane-force winds, indicating that hurricane conditions are approaching your area.
What can I reference to prepare for hurricane season?
How can I help affected communities?
Whether you give locally or nationally, there are plenty of organizations ready to assist, like Feeding America, American Red Cross, or a charity of your choice via the Charity Navigator.

How should board members of Texas associations prepare for severe weather?
Don't wait until it's too late! Prepare yourself now for any future hurricanes. Here's how:
Create an emergency action plan (EAP) for your community and share it with the property manager.
Establish a contingency plan ("plan B").
Store critical association documents in a secure, dry place.
Make sure your insurance is updated to cover expected damages.
Work with your management company to book contractors for post-storm services.
Communicate how you'll help residents who require special accommodations.
Regularly update residents via email, text message, social media, etc.
Your management company can also use mass communications tools to get the word out fast.
How should residents of Texas high-rise, single family, and master planned communities protect their homes?
Before the hurricane:
Don't wait for an emergency - prepare well in advance.
Develop a family emergency/evacuation plan and rehearse your plan often.
Know your building's designated storm shelter.
Remove everything from your balcony if severe weather is in the forecast.
Check expiration dates on existing supplies and replace as needed.
Stock up on non-perishable items.
Secure essential documents, including IDs, copies of insurance, and mail listing your home address.
Make sure your contact information is up-to-date with the board so you can receive emergency alerts.
Always keep your cell phone charged so you can monitor updates and call for help any time.
Trim trees and shrubs around your home.
If you have a generator on standby, be sure to only use it outside.
During the hurricane:
Stay in your designated safe space, stocked with toiletries, clothing, flashlights, electronics, chargers, batteries, food/water, etc.
Stay away from all windows.
If you lose power, set your fridge to its coldest setting, and avoid frequently opening the door.
Be aware that emergency services are overwhelmed. Please be patient and stay in your safe place.
Stay out of elevators in case of power failure.
Be mindful of exit limitations, as underground parking garages may flood.
Continue monitoring severe weather updates.
How should tenants of Texas commercial properties protect their businesses from storms?
Before the hurricane:
Develop and practice a comprehensive emergency plan well in advance. Ensure that all employees and tenants are aware of the plan and know how to access it.
Make sure your emergency contact information is up-to-date with your property manager.
Keep hurricane supplies stored in an easily accessible place (first aid kits, food, water, batteries, back-up power systems, etc.)
Regularly inspect and maintain the property, including the roof, windows, doors, and any landscaping or outdoor fixtures that could become potential hazards in high winds.
Consider investing in hurricane shutters, impact-resistant glass, or other protective measures.
Keep important personal and business documents stored in a dry, secure place.
Work with your management company to book contractors for any post-hurricane services.
Make sure your insurance is updated to cover any storm-related damages
Stay on top of emergency alerts and communicate them with staff and tenants.
During the hurricane:
Don't attempt to ride out the storm in your commercial building.
If you can't leave, find an emergency kit and take shelter in a safe interior room or stairwell.
Unplug all electrical appliances and equipment, except the fridge.
Continue monitoring severe weather updates.
If you evacuate:
Take what you need (cell phones, chargers, batteries, IDs, clothing, food, water, medications, cash, etc.).
Unplug all appliances and turn off your property's gas, electricity, and water.
Use roads recommended by emergency experts.


Emergency plan checklist.
Whether you're a board member, resident, or tenant of a Texas HOA, COA, or commercial property, this checklist will help make sure you and your family have everything you need to stay safe in the face of any severe weather emergency.
What should Texas associations do to recover after a hurricane?
Place tarps over damaged roofs, windows, and doors.
Carefully remove debris to reduce the risk of injury or further damage.
Contact your employees or tenants about the next steps.
Be mindful of downed power lines and flooded areas.
To prevent carbon monoxide poisoning, run generators outdoors only.
Throw away all spoiled food.
Photograph or record all property damage (with date stamps) and contact your insurance

A partner who will weather the storm with you.
As your management partner, there's nothing more important than the safety of your family and community. Our local service-first team has the right resources to offset the impact of any severe weather event. Questions? Reach out to your property manager, or you can call our 24/7 Customer Care Center at (877) 378-2388.
Keep these life-saving tips and checklists with you! Remember: Prepare today, thank yourself tomorrow.
FirstService Residential is simplifying property management.
Our FirstService Residential Texas family enjoys peace of mind knowing they're in good hands. They can count on our 24/7 customer service for tailored solutions that take the balancing act out of property management. And our service-first philosophy means we don't stop until what's complicated becomes uncomplicated. To make life, simplified.
If your association is not currently managed by FirstService Residential Texas, we would love to learn more about your community. Just click
Contact Us
below. We look forward to meeting you!