Tax Free Weekend Texas: Know Before You Go
April 22 – April 24, 2023
Whether you call it a "go bag," "safety kit," or something else, your family's stash of emergency preparedness supplies can only protect you if it has the essentials you need when you need them. There's no better time than this weekend to stock up on household safety items – you can save as much as 8.25% in sales tax!

Get qualifying emergency prep supplies at a lower price, at no limit on the quantity, and claim the exemption without a certificate. Altogether, shoppers will save an estimated $2 million in state and local sales taxes this weekend.
When is tax free weekend in Texas for emergency preparedness supplies?
Tax free weekend Texas dates (according to Texas Administrative Code) are:

Starts: April 22 (Saturday), at 12:01 AM

Ends: April 24 (Monday) at midnight.

Why do I need an emergency prep supplies kit?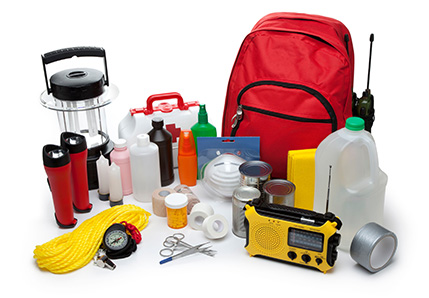 This shopping trip may be your most important errand all year. No one likes to think about natural disasters, but they do happen. Texas is no stranger to potential hurricanes, flash floods, and wildfires, so it's crucial for families to have the resources to protect themselves and their homes. The state offers this annual sales tax holiday in April so residents can be well-prepared for any weather events the season may bring.



What emergency prep supplies are included in tax free weekend for Texas?
Here are a few "know-before-you-go" pointers on supplies that do and do not qualify for tax exemption if purchased for a sales price (see full details on Texas Comptroller's site):
QUALIFYING ITEMS:
Less than $3,000
Less than $300
Emergency ladders
Hurricane shutters
Less than $75
Axes
Batteries (AAA, AA, C, D, 6 volt or 9 volt)
Can openers (non-electric)
Carbon monoxide detectors
Coolers for food storage (non-electric)
Fire extinguishers
First aid kits (including these suggested items - PDF)
Fuel containers
Ground anchor systems/tie-down kits
Hatchets
Ice products (reusable/artificial)
Light sources (candles, flashlights, lanterns)
Cell phone batteries and chargers
Radios (two-way and weather band)
Smoke detectors
Tarps/plastic sheeting
Did you know?
Over-the-counter self-care items like hand sanitizer, soap, spray, and wipes are always sales tax exempt, as long as they are labeled with an FDA-compliant "Drug Facts" panel.
ITEMS THAT DO NOT QUALIFY:
Face masks
Cleaning supplies
Gloves
Toilet paper
Batteries for cars, boats, etc.
Camping stoves and supplies (including tents)
Chainsaws
Plywood
Extension and step ladders
Repairs, services, or replacements for emergency prep supplies

Can I order my emergency prep supplies online or by phone?
Yes, as long as you purchase the items within the dates/hours of the tax free weekend. This is something that is easier to track if you purchase or order in-store, but remote ordering is more complicated.

For example: If you order a qualifying cooler online and pay via credit card at 6:30p on Monday, April 24th, your purchase still qualifies for the exemption, even if the cooler isn't delivered to you until the following week. However, if your credit card is denied and you don't try to purchase the cooler again until the next day, April 25th, you've missed the window for the tax exemption.

Also note: Additional charges like shipping and delivery can count toward the total sales price of the items.

For example: If you order a portable generator for $2,999, but the shipping costs $100, this pushes the total price over that $3,000 limit, making the generator no longer tax exempt.
What if I end up paying sales tax on emergency supplies over tax free weekend?
If you wind up paying sales tax on any of the qualifying emergency supplies this weekend, simply ask the seller for a refund of the tax paid. The seller can either reimburse you or provide an Assignment of Right to Refund (PDF) form. This allows you, the purchaser, to submit a refund claim to the Comptroller's office directly.

Questions on refunds? See the Texas Comptroller's Sales Tax Refunds page or call the office at 800-531-5441, ext. 34545.
Do I still need an emergency prep supplies kit outside of severe weather season?
Weather-related or not, keeping kits of emergency preparedness supplies (one for the house; one for the car) year-round can provide peace of mind for you and your family in any type of emergency. Unfortunately, according to the CDC, almost half of Americans do not have emergency prep supplies or first aid kits in their homes or cars!

Use this tax free weekend to take note of what supplies you currently have, throw out any out-of-date items, and make a shopping list of essentials specific to you and your family. Always have enough to last at least 72 hours after an urgent event.

Your emergency preparedness supplies should include items most relevant to your family's specific needs. To help customize your kit list, use this Build-a-Kit checklist PDF (provided by the Texas Department of State Health Services).


What 10 things should an emergency prep supplies kit include?
While all families have different needs, FEMA recommends these 10 basic items to include in your emergency prep supplies:
Several days' supply of food and water (for family/pets)
Flashlight (with extra batteries)
Whistle (for rescue workers to hear you)
Dust mask (in case dirty/contaminated air)
Local maps (in case no access to internet)
Battery-powered or hand-crank radio
Manual can opener
First Aid Kit
Games/activities for kids
Wrench or pliers/other tools and equipment relevant to your needs
Wait, don't forget your car!
See the list of safety items
AAA suggests keeping with you on the road.
Perhaps one of the most essential items everyone should include in his/her emergency preparedness supplies is safety training. Click here to learn simple yet vital safety skills, like how to give first aid or how to use a fire extinguisher.

As you purchase supplies this tax free weekend, remember: Even a fully stocked safety kit cannot work without a plan! Make and practice your emergency plans for different scenarios with your family. It's great to have the emergency prep supplies but practicing how to use them can be a life saver (literally!).