Winterize Your Texas High-Rise in 8-Steps
How do I prepare my condo community for the next winter in Texas?
With the fall season officially here, your condo owners association (COA) may be asking some version of this question. Nobody wants to be caught off guard when it comes to the harsh cold temperatures and potential snow and ice storms. So, let's get started on some tips for making sure your building is ready for the upcoming months.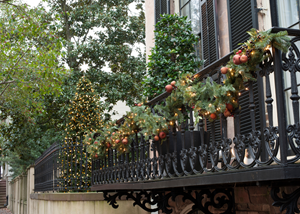 Test and maintain your heating system.
Test your heating system before the cold hits too hard. By doing this, you can catch any potential issues early on and avoid any major problems later. If you notice any issues during the test, it's always best to contact a professional who can perform a thorough diagnostic checkup. They can identify any underlying problems and provide you with the necessary repairs to keep your heating system functioning effectively and efficiently.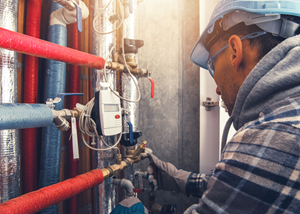 It's also important to keep in mind that regular maintenance is the key to ensuring that your heating system runs smoothly all winter long. By scheduling routine check-ups and maintenance services, you can reduce the risk of unexpected breakdowns and extend the life of your heating system.
So, whether you're dealing with a central heating system or individual heating units, make sure you take the time to properly prepare and maintain your heating systems. With a little bit of effort and attention, you can ensure that your residents stay warm and comfortable throughout the coming winter in Texas.
Check windows and doors.
Conduct a thorough inspection of your building's windows and doors. Make sure they're sealing properly and that there aren't any cracks or gaps that could let in cold air. If you do notice any issues, it might be time to consider getting them replaced with more energy-efficient options. Not only will this help keep your residents warm, but it can also save you money on heating bills in the long run.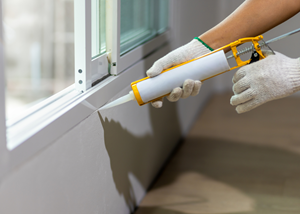 In addition to replacing (if necessary) any windows and doors, you may also want to consider adding seals to them. This can help further prevent cold air from creeping in and keep warm air inside where it belongs. Some types of sealant you might consider include weatherstripping, caulking, or adhesive-backed foam tape. These materials are generally easy to apply and affordable, making them a more cost-effective option for any COA's budget.
Is it better to replace windows in the winter or summer?
Winter is a better time to replace your building's windows. The choice of sealant materials used during winter installations is often more durable and weather resistant compared to summers. Plus, installers tend to focus on one window at a time, resulting in more thorough installations that adjust better to temperature changes throughout the year.
Don't let drafts and chilly air make life uncomfortable for your residents. Take steps to seal your windows and doors and consider upgrading to more energy-efficient options if necessary. Your residents will thank you for it!


Clean gutters and downspouts.
Over time, these important components of your building's drainage system can become clogged with all sorts of stuff - from leaves and twigs to even trash. And as we head into fall, these clogs can cause major problems by preventing rainwater from effectively draining off your building's roof and away from its foundation.
Cleaning your gutters and downspouts is an easy and cost-effective way to avoid these issues. By doing so, you're not only helping to prevent water damage to your building's foundation, but also protecting against potential mold growth and other serious structural issues.
So, take a little time to check out your gutters and downspouts this fall and keep them clear of debris.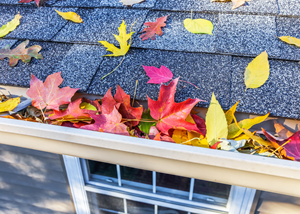 Inspect your roof.
One crucial step to winterizing your high rise is inspecting your building's roof for any visible signs of damage or leaks. This is especially important as heavy rainfalls and snowstorms can cause water to leak into your building if there are any existing damages.
You'll want to look for any cracks, holes, or deterioration in the roofing material, as well as any signs of leaks such as water stains or mold. If you spot any damage, it's imperative to get it repaired as soon as possible to prevent any further issues.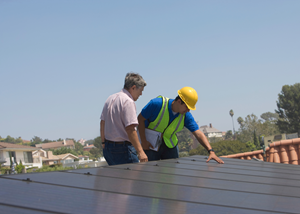 Another point to keep in mind is that heavy snow accumulation on your roof can be a major safety concern. This can cause your roof to cave in, putting your residents and property at risk. It's crucial to remove snow accumulation from your roof regularly to prevent any damage. Make sure to hire a professional to safely remove the snow, as this is not a task that should be done on your own.
Remember, taking the time to inspect and maintain your building's roof can go a long way in preventing potential damage and safety hazards during the next winter in Texas.
Check your building's plumbing.
One major concern during this time is the risk of pipes freezing, which can cause serious damage and headaches for everyone involved.
How do I protect my pipes in Texas in the winter?
To prevent pipes from freezing, it's crucial to ensure that your building's plumbing is up to date and properly insulated. You should also make sure that all exposed pipes in exterior areas are insulated as well, as these are particularly vulnerable to freezing temperatures.
Did you know that water expands when it freezes? This means that when water inside a pipe freezes, it can cause the pipe to crack or burst, leading to leaks and water damage. And it's not just older buildings that are at risk; even newer ones can experience freezing pipes if they're not properly insulated.
That's why it's so important to take preventative measures early. Adding insulation to your pipes can significantly reduce the risk of freezing, and it's a relatively simple and cost-effective solution. Plus, it can help keep your utility bills down by reducing the amount of heat lost through your pipes.
So, if your building isn't equipped with plumbing insulation in exterior areas where pipes are exposed to the elements, now is the time to consider adding it. By taking this step, you'll be protecting your building from potential damage and ensuring that your residents stay comfortable and cozy all winter long.


Establish an emergency plan.
While preparing for the cold and snow might be the first things that come to mind, it's also important to have an emergency plan in place for winter in Texas. This plan should include an updated list of emergency contacts in case of plumbing or heating problems, gas leaks, or even roof issues.
For an emergency plan to work, everyone has to be on board. This means making sure your residents have the right information and know what to do with it. Communicate your winter emergency plan to residents in multiple ways (newsletters, emails, meeting announcements, etc.) leading up to severe weather season and make sure they're aware of the plan.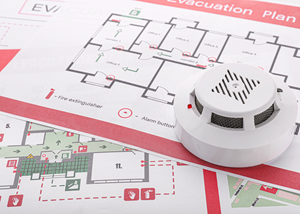 What should be included in my condo association's emergency plan?
Be prepared for power outages.
Winter storms can cause power lines to go down, leading to loss of electricity and heat. Make sure everyone in your building knows what to do in case of a power outage, such as having backup generators on hand and communicating the best ways to stay warm.

Keep walkways and driving paths clear of ice and snow.
Slippery surfaces pose a risk to residents, visitors, and emergency responders. Have a plan in place to clear sidewalks, parking lots, and building entrances promptly after snow and ice storms.

Have an alternative communication system in place.
During power outages or other emergencies, phones, and internet connections may not be available. Consider setting up a radio system or having a designated phone tree in place to stay in touch with residents and emergency services. An experienced management company will have reliable mass communications software and strategy ready to go for emergencies like this.

Review your insurance policy.
Keep emergency supplies on hand.
Your emergency plan should include a list of supplies to keep on hand such as food, water, blankets, and flashlights. Make sure everyone knows where these supplies are stored and how to access them if needed.
For a printable list of emergency kit essentials, click here.

By having a solid emergency plan in place, you can ensure that your high-rise community is prepared for any unexpected challenges that often come with winters in Texas.

Check your building's smoke detectors.
One of the most important steps in winterizing your high-rise is ensuring that your building's smoke detectors are fully functional. Smoke detectors play an essential role in detecting early signs of fire, as we know, and they can make all the difference in saving lives.
It's important to note that smoke detectors have a limited lifespan, and they should be replaced every ten years. If your building's smoke detectors are approaching this age, consider getting them replaced to ensure maximum safety.
It's important to emphasize that safety is everyone's responsibility. Encourage residents to report any issues with their smoke detectors, no matter how minor they may seem and no matter what time of year it is.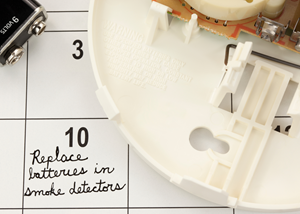 Where should smoke detectors be placed in my building?
Having a smoke detector installed in each unit and all common areas is crucial. The placement of smoke detectors is just as important as having them in the first place. Smoke detectors should be placed in areas where smoke is most likely to accumulate, such as the kitchen, living room, and bedrooms.
The National Fire Protection Association (NFPA) also recommends installing smoke detectors in every bedroom and hallway leading to a bedroom. Bedrooms are the location where most fatal fires occur because occupants are often asleep and unaware of the situation.

Add insulation, reduce energy costs.
As the cold weather approaches, it's important to start thinking about ways to winterize your high rise that keep your residents warm and reduce energy costs. One great way to achieve this is by adding insulation to your building's walls, attic and crawl spaces.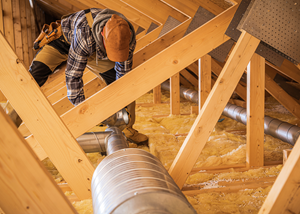 By properly insulating your building, you can help keep heat inside, which will not only keep residents comfortable but also lower heating costs. In fact, according to the Department of Energy, adding insulation to your building can save you up to 20% on heating and cooling costs.
Before you start adding insulation, make sure to check your state and safety regulations to ensure that the insulation you're using is up to code. You'll also want to consider the type of insulation you'll be using, such as fiberglass, cellulose or spray foam, and the R-value, which measures the insulation's effectiveness.
Upgrading insulation may seem like an expensive task, but it will ultimately pay off in the long run by reducing energy costs and making your building more comfortable for residents. Plus, it's a sustainable solution that can benefit both your residents and the environment.
So, take some time to assess your building's insulation needs and consider upgrading to ensure that your residents stay comfortable, and your energy costs stay low this winter.
Download the winter preparedness checklist.
For a printable guide for how to winterize your home, click here to download our winter preparedness checklist.

There, you'll see a quick summary of these 8 tips for Texas associations for the colder months.
Conclusion
By taking these simple steps, you can ensure that your building is ready to weather the colder months ahead. Remember to keep your team informed and communicate any changes or updates to residents. As the old saying goes, it's better to be safe than sorry. A little bit of preparation now can save you a lot of headaches (and costs!) down the line.
If you're not sure whether your high-rise is winter ready, we'd love to learn how we can help. Contact us today, and we'll be in touch soon. Stay warm and stay safe.


FirstService Residential is simplifying property management.
Our FirstService Residential Texas family enjoys peace of mind knowing they're in good hands. They can count on our 24/7 customer service for tailored solutions that take the balancing act out of property management. And our service-first philosophy means we don't stop until what's complicated becomes uncomplicated. To make life, simplified.
If your association is not currently managed by FirstService Residential Texas, we would love to learn more about your community. Just click
Contact Us
below. We look forward to meeting you!