Posted on Friday October 23, 2020
The Association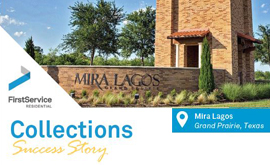 A dues collection strategy is vital to the financial health of any association. And for this 600+, single-family home community in Grand Prairie, the number of outstanding payments had reached a dangerous level. In spring of 2014, a new board was elected and community oversight passed from declarant to homeowner control. Although the declarant board left the association with a generous cash reserve, it didn't consistently execute a dues collection process. In fact, the delinquent balance had reached $145,000, or 60 percent of the total annual dues revenue, presenting a severe cash-flow concern.
The Solution
As their new management team, FirstService Residential worked with the board to help establish operating procedures for managing dues and educate them on the do's and don'ts of homeowner collections. Once they established a policy, filed with the county and communicated with homeowners, it was put in action.

The board outlined a collections process with guidance from the community manager that included timely communications clearly stating the balance, due dates and payment plans. Here's their method:

Statements are distributed 30 to 45 days before the due date. If the homeowner misses the deadline, a reminder is sent at 30 days and 60 days past due. These notices include assessment and late fees, payment plans and language required by property code. The final warning is sent by regular and certified mail.
At 90 days, the account is turned over to the association attorney.
After an account is delinquent for 13 months, the board begins foreclosure proceedings.
This may appear to be a straightforward process, but the challenge was managing homeowner response and expectations. The FirstService Residential management team helped the board maintain an objective perspective by providing guidelines for engaging homeowners:
DO follow a proactive collections process and allow your management team to protect the best interests of the association.
DO encourage payment plans. They're not only required by law in most cases, but they go a long way in securing payment from an owner seeking an extension.
DO be consistent. Closely following the process results in less homeowner resistance and sets a precedent for fair legal matters.
DON'T engage in personal conversations with homeowners about outstanding dues. Instead, encourage them to contact the management company to discuss payment options. Also, remind them that their board has an established process which applies to all homeowners and is designed to protect property values and the community's best interests.
The Results
After implementing a firm collection process for two years, the community reduced its total outstanding balance to $28,000! Thanks to the board's consistency, more homeowners are making on-time payments and the number of delinquent accounts continues to dwindle. When asked what helped steer things in the right direction, the board president cited the solid partnership between the board and FirstService Residential.
"It's our job to educate our board members about the impact delinquencies have on the community and to remind them that it's their responsibility to enforce the governing documents with all homeowners. Every resident enjoys the benefits of their managed community and should be expected to do their part; this includes paying dues on time."
- Jeff Hampshire, senior community manager

Contact us
to talk about how FirstService Residential Texas can help your community on the track to success.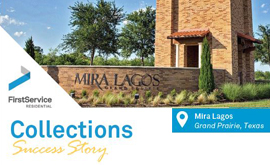 Download your printable copy today!