Preparing for A Storm During Supply Chain Shortages
Do you have a hurricane plan in place to help keep your home and loved ones safe? Download our Hurricane Guide today!
Storms can be unpredictable by nature, and properly preparing for them can be tough. Add in supply chain shortages and it becomes downright challenging. Experts predict an active hurricane season this year, and properly preparing your community for these storms is crucial. Whether you live in a hurricane zone or tornado territory, keeping your community and residents safe from severe weather begins with proper planning.

Since the COVID-19 pandemic struck in early 2020, the supply chain has been interrupted, leading to an increase in disruption of the availability of goods, which continues to plague industries around the globe, including property management. And as the supply chain crisis continues to linger with no end in sight, proper storm preparation means considering supply shortages that you may not have had to think about before.

Read on for 6 things to consider as your board prepares for the upcoming storm season.
Understand the (Lack of) Availability of Supplies
Over the last two years, skyrocketing demand for goods and services, combined with production disruptions, have created shortages in everything from construction equipment to food. Communities are seeing shortages in supplies such as plywood and paint, struggling to find enough to complete simple maintenance projects. Many of the items needed to protect a community from a storm will likely be difficult to find and will cost more than they used to.

Products reach consumers through a highly complex system of global supply chains – chains that have been interrupted due to increased consumer demand and backlogs across major production ­– that are causing numerous product delays. Inclement weather has further added to these delays affecting the production of plastics and other supplies like acrylics and latex-based items, such as paint or gloves. Last year, severely cold weather in Texas, where some of these products are made, caused pipes to freeze, halting production in some factories.
Create a List and Source Supplies Now – Get Ahead of the Supply Chain Crunch
Start with a comprehensive list of supplies you will need to prepare for a storm and recover from one. Items such as plastic covers, garbage bags, plywood, leaf blowers, gloves, first aid kits, battery-powered radios, paint, flashlights and even water are supplies you will want to add to your list. Stay mindful that many of these items are already in short supply, so associations should start sourcing them now to get a head start on the search.

You will have to consider that the cost of materials will be higher than usual. Because demand and inflation are at an all-time high, and supply is low, almost everything you will need is more expensive. Expect items needed for storm preparation such as tools, ladders, sandbags, lumber and other supplies to cost more than usual and budget accordingly.
Know Where to Turn When Challenged by Shortages
Consider all types of providers when sourcing and pricing supplies. A good management company should work with a variety of vendors to provide the communities it manages with what they need – at the best possible price. "We have great relationships and leveraging power with both local vendors and national suppliers," said Edwin Lugo, vice president at FirstService Residential. "FirstService Residential's Value Engineering team helps source different suppliers for our clients to help ensure they have the supplies needed to secure their communities before a storm hits. Plus, we have long-standing relationships with companies that help communities recover from a storm, such as restoration and landscaping/debris removal companies."

Other resources to consider are medical supply houses and hotel supply companies. These companies list their product inventory online, making it easy to search for what you need. But Katharine Effron, vice president at FirstService Residential, warns buyers to "be careful where you order from." Adding, "items ordered outside of the U.S. don't always go through the same inspection process, and the quality may not meet expectations."
Prepare for Staffing Challenges
Supplies are not the only thing in short supply. Ongoing labor shortages caused by the pandemic continue to plague community associations, making it a constant challenge to hire and retain qualified employees. Review your association's emergency plan to ensure you have the right staff on hand, that every staff member knows your emergency policies and procedures and what their individual roles are when a storm is on the horizon. It is also more important than ever to ensure your staff is cross trained to handle any emergency that may arise, regardless of staffing shortages. Keep in mind that your vendors are also likely to be experiencing similar labor shortages, so make sure to discuss this when confirming their role in the preparation and cleanup processes.
Don't Forget Your Network of Vendors
Speaking of vendors…every community must rely on outside vendors to help them prepare and recover from a storm. Check with them early – in addition to making sure they are properly staffed, make sure they are adequately stocked with materials and equipment. For example, if your vendor contract requires hurricane shutter installation, make sure your vendor has the equipment needed to carry that out. If your roofing company is expected to place tarps over the roof before a storm hits, confirm they have enough of them required to do the job. If they don't, ask about a contingency plan. Are there alternatives to keep the roof from leaking? Communicating with your vendors in advance will help you determine if you need to make additional or alternative arrangements.

"As the leading property management company in North America, we work with the top companies that provide products and services to condos and HOA communities," said Chris Normandeau, director of Value Engineering at FirstService Residential. "From landscaping to roofing and everything in between, our job is to vet these resources to make sure they can provide what our communities need to weather a storm. And because of our position in the industry and the number of communities we manage, we are able to work with many vendors to make sure our communities get what they need as soon as possible."

Establish Strong Partnerships
As a board member, you want to work with a property management company with established relationships and partnerships that will benefit you before, during, and after a storm, even when supplies aren't limited.

A board should lean on its property management company and leverage their depth of resources and their relationships. The right property management company will help you find the materials and resources you will need before a storm hits to keep your community safe, and will work with you to identify the right vendors you'll need to rely on to minimize the disruption following a storm.

"It is critical to have the right partners in your corner. It starts with your property management company, but with their help, it should extend to all types of vendors as well," said Christopher L. Pappas, senior vice president at FirstService Residential. "Look for the partners that will not only customize their services to fit the unique needs of your community, but also prioritize your association when disaster strikes. That's the level of service you should expect from a true partner."

For more information about how a professional property management company can help your community weather this storm season, contact FirstService Residential.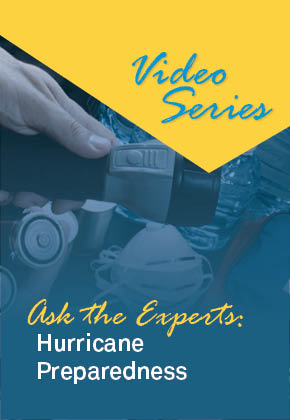 Watch the full video!
Do you know who is responsible for doing what and when in your community should a hurricane hit? Watch our video to make sure you've got everything covered!
WATCH NOW!