HOA 101: What They Didn't Tell You About Being a Board Member
Download a free guide!
Complete the form below to get a free 9-page guide, Make Better Board Decisions: 6 Essential Tips for Association Alignment.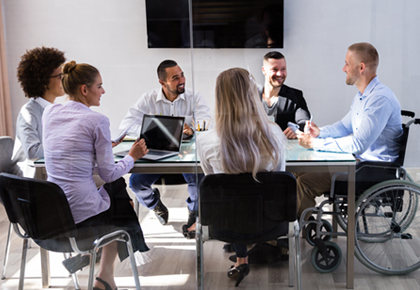 So, you want to be an association board member? There's nothing more rewarding than volunteering time to serve your community and making a difference. Armed with industry knowledge and the right perspective, you and your board can preserve and enhance your community's reputation and potentially increase property values in the process.

But what are some things they didn't tell you about being a board member?

As we all know, good things don't come easy, and being on the board of a thriving association will require some patience, effort and tough skin on your part! Read our article to learn five lesser-known tips for brand-new or seasoned board members.
Understanding Your Role on the Board and Avoiding Blunders
You may have thought that a board member's duties are limited to their title. However, it's important to note that you share equal responsibility when it comes to your fiduciary duty and commitment to acting in the best interest of your association. Below are five general titles and responsibilities of a board and committee member to give you an idea of where to start.
President

The president primarily facilitates board meetings, finalizes legal documents and represents the board or association as needed. Depending on your association's code of conduct, the president could make the final decisions or impose a majority vote rule.

Vice President

The vice president serves as the primary support to the president and stands in to govern if needed. They often serve as liaisons between the board, committees and management company.

​Secretary

The secretary helps manage association documents and is often the point person for newsletters and communication pieces.

NOTE: Keep in mind that your management company should have a robust solution for recording meeting minutes and drafting agendas and should be looking to your board to review those documents rather than create them from scratch. FirstService Residential uses its proprietary Meeting Management System to create meeting packets, agendas and minutes in a 100% digital and interactive format.

Treasurer

The treasurer is responsible for the association's finances, incoming and outgoing. They work closely with the association's CPA and management company's accounting department.

​Committee Members

Committee members support the board of directors by providing input and volunteering their time for specific areas such as finance, architecture, landscape, maintenance and events.
Did you know? Seeking counsel from your spouses or family members regarding official board business can be a serious violation.
Your board's governing powers are reserved for yourself and your fellow elected board members. This means that your spouses or family member (who are not on the board) cannot and should not be involved in any official business. Please have them follow any suggestion or feedback protocol put in place by your board or community manager. This will help preserve your integrity as a fair board member and alleviate any discomfort for others by not "stepping on anyone's toes."
What other board blunders should you avoid? Read our article, 5 HOA Board Blunders to Avoid, for more information.
Leading by Example, Fairness and Transparency
You may have thought that being a volunteer board member involved making decisions for the benefit of your community. Absolutely! But it's also important to recognize that not everyone in your community (or even on your board) will be 100% happy all the time.

Ultimately, an effective board member should lead by example, exercise fairness, and communicate transparently (and regularly). When it comes to making important decisions for your association, it's best to have your board align with one another. Real board alignment is not about agreeing with every decision or having the same collective thought. It's about coming to a conclusion with the understanding that this is what's best for your community and effectively communicating this to fellow owners and residents. Also, residents will be more likely to adhere to and respect a united board in difficult situations such as raising assessments or communicating a new policy.

"The challenge of alignment is that you're not going to keep everyone happy. Instead, you want to act in the best interest of your community – that's the key."

—Gary Turner, Board President of Trilogy La Quinta Maintenance Association

It's crucial for board members (yes, including you) to follow all the rules set forth by your association and management company to avoid animosity among residents. While there will be special cases where the board must meet and discuss alternative solutions, this process should be free of favoritism and bribery. It should also be well-documented and communicated to residents with full transparency.

To learn more about board communication and the benefits of uniting on important decisions, read our article, Is HOA Alignment a Unicorn? 3 Boards Share What It Takes

Avoiding Burnout and Tackling Social Media Woes
"Some board members face ongoing challenges on social media from individuals who have their own opinions of what's going on behind the scenes or may not understand the decision process. Some people will go as far as knocking on the board member's door to make themselves feel heard."

– Christina Brown, Regional Director, FirstService Residential

You may have thought that being a board member meant posting an event on social media occasionally. What you may not have expected was fielding or responding to unhappy comments (and even personal ones at times) on community sanctioned and unsanctioned social media sites.

One of the biggest board burnout factors (that doesn't get much attention) is dealing with feedback from unhappy residents. This can occur on social media platforms and in-person around your community or high-rise. Although it's tempting to engage in and respond to these confrontations, it's crucial to know that your responses will represent the entire board and association, not just yourself.

Effective board members can rise above potentially negative feedback by communicating proactively and transparently to the entire community. The reality is, being proactive will not stop unhappy residents from voicing their opinions but it does put the board and community in a better light and standing. An aligned board and a cohesive message with a focus on the "why" and benefit to the community helps when responding to potential criticism from those that don't see eye to eye. As board member Gary Turner stated above, the key is to act in the best interest of your community, which doesn't always keep everybody happy, and that is okay.

If any situation gets out of hand, involve your community manager and consult with your association management company to best handle these situations. FirstService Residential has a communication cadence and best practices in place to help board members navigate negative feedback. For more communication best practices, read our article, 9 Ways to Improve Board Communication (Hint: It Starts With You!).
Finding Strength and Support in Your Team
"It takes a village! Our community managers, general managers and board members have access to a full range of HR support and resources from our in-house accounting and finance department, legal and risk team to take their association to the next level."

-Ivana Komljenovic, General Manager, FirstService Residential

You may have thought that being a board member meant doing everything by yourself! This is not true. Your community manager or general manager is your partner to help execute board decisions and your vision. In fact, some of the most successful associations have "policy boards" that are nearly solely dedicated to creating policies to stay current and relevant in their markets, setting the overall vision and long-term planning; leaving the day to day responsibilities for their community or general manager (and their teams) to handle. Speaking of teams, your community manager will need a "village" of additional support in accounting, IT, human resources, legal and risk to help them do their job more effectively.

As board members, it's important to assess whether your association or community manager has adequate support or not. Here are some questions to consider:
What's the general response time for any questions or requests?
Does your manager have additional administrative support?
Are homeowner statements arriving on time with footnotes from accountants?
Does your manager have access to training and technologies that allow them to do their job more effectively?
The truth is, supported managers equal successful communities. To that end, FirstService Residential arms community managers and associates with specialized training and extensive support in all departments because we know that a supported manager means a successful board and association.

To learn more, read our article, Is Your Association Manager Equipped for Success? 3 Questions to Ask.
Final Thoughts
A flourishing association thrives on the commitment and efforts of a strong board, management staff and happy residents. If you're a newcomer, don't be afraid to ask for help, familiarize yourself with the industry and keep an eye out for opportunities to improve your association's processes. If you're a seasoned board member, don't limit yourself to what you already know. Keep an open mind and strive to make continuous improvements for the benefit of your community.
Disclaimer: This article is provided for information purposes only and does not constitute legal advice.