6 Ways Your Board Can Improve HOA Meetings
Download a free guide!
Fill out the form on this page to download our complimentary guide, Six Principles for a Better Board Meeting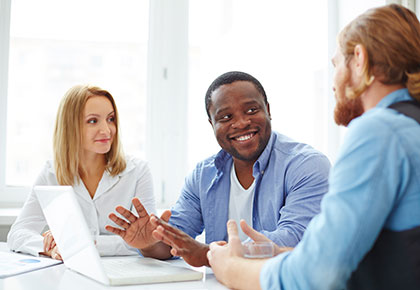 True or false? A great board meeting involves zero disagreements and minimal resident feedback.
False.
While being on the same page with your board and hearing fewer complaints is a positive sign, agreeing on nearly everything isn't as healthy as it sounds.
On the flipside
, too many negative and unbalanced opinions can throw a board meeting completely off the rails.
The truth is, a healthy board meeting should have a balance of diverse opinions and productive discussions that are
rooted in your association's overall vision
. This has a direct impact on your association's relationship with residents and can improve your community's overall reputation, which correlates with property values.
How do you take your board meetings to next level? Start with these 6 steps:
1. Prepare, prepare, prepare.
You may not know what residents are thinking, but you can get a head start on potential topics that may arise. Start by reviewing the agenda with your community manager before your meeting begins. Your Arizona HOA management company should provide the resources you need to prepare mentally and assess the topics ahead of time. FirstService Residential's policy is to send out a board packet about five days before a board meeting. The packet may include an agenda, suggested motions and answers to common questions.

Getting defensive? In our latest HOA survey, 16.4% of surveyed board members said they defend the association at all costs when dealing with disruptive residents rather than thoughtfully listening and partnering with management to come up with a solution. ​

2. Be professional.
Treat your position on the board as you would any job, keeping meetings productive and professional, rather than a space for personal agendas. Make sure the agenda is mapped out ahead of time and your fellow board members know the basic structure and procedures involved, such as making and seconding motions.

Your Arizona community management company should provide additional training on tackling interpersonal issues and communicating effectively.

3. Keep meetings short.
No one wants to be in a long meeting. And in the case of a board meeting, the longer the meeting goes, the more likely your decision-making quality will suffer. As a best practice, try to keep the meeting between 45 minutes to an hour (yes, it's possible if you have the resources and support to prepare ahead of time!). By working with a community manager who has the resources and necessary support to plan the agenda ahead of time and keep the discussion professional, you'll keep the meeting concise and purposeful.
5. Create a no-venting zone.
Venting can change the tone of your meeting from professional to personal and often take precious time from the agenda. To prevent venting, set some limitations around each topic and speaker. For instance, you may want to set a rule that no one can speak on a topic for more than three minutes and the topic must be on the agenda. Your community manager should help facilitate and enforce these guidelines in accordance with Arizona laws.

According to Arizona Revised Statutes 33-1804, "the board may place reasonable time restrictions on those persons speaking during the meeting but shall permit a member or member's designated representative to speak…"

6. Adhere to a basic code of conduct.
All board meeting attendees should follow a basic code of conduct (outlined in your governing documents) to ensure a respectful and courteous environment. This code of conduct should include basic rules like time limitations on speaking, who can attend and speak at meetings and members' right to record meetings. If you don't have a code of conduct, a knowledgeable community management company can help you develop one and enforce it.
7. Listen up.
A listening ear goes a long way, especially when it comes to board and resident relationships. At the end of the day, everyone wants to feel heard and valued. To accomplish that, make sure you give everyone who is speaking your full attention. Actively listen to what each speaker is saying and respond with a summary of what they just said. This doesn't mean you have to agree, but you should consider what they have to say.
Next steps
Healthy board meetings may not always look perfect, but they will work toward a common goal of improving the community and realizing your association's vision. Follow the tips above and work with your Arizona management company and community manager to reinforce these best practices. By taking simple steps to improving your board meetings now, you'll be well on your way to building better relationships and enhancing your community's reputation in the long run.