HOA Manager Change? How to Handle HOA Staff Changes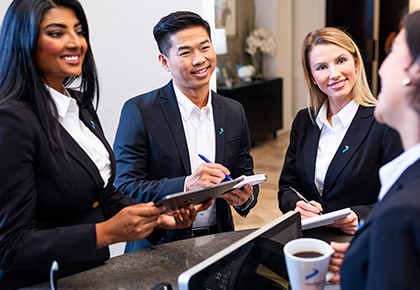 HOA staff and HOA manager change are a part of the natural course of events. Your manager might advance in their career, retire, or relocate to a different area. Moreover, you might also experience transitions with other staff members, like front desk associates or maintenance managers. However, it's important to note that not all changes in staff or managers have to be difficult.

The prospect of staff changes can often raise concerns among board members and residents. However, rest assured that these transitions need not hinder your association's operations. By partnering with a management company boasting proven expertise in transferring responsibilities and institutional knowledge, a smooth transition can be achieved.

Not all staff changes are created equally. The level of support needed can vary greatly depending on the specifics of the transition. Managing a small community with only two staff members is a different ballgame compared to handling a large, master-planned community with thousands of homes and numerous on-site staff members and amenities. It is crucial that your management company understands and provides the appropriate level of support tailored to your community's unique requirements.

How can you and your board effectively prepare for future changes? One key aspect of this is fostering an open and candid dialogue with your management partner regarding potential staff changes. By removing any taboos surrounding this topic, you can ensure a smooth transition. To facilitate this process, we have provided a list of pertinent questions to discuss with your management company. These questions will help you navigate potential staff or manager transitions effectively and minimize any disruptions.

Who keeps the institutional memory during a staff or manager change?
When it comes to changing managers, there are several important questions that arise. How quickly will our new manager become familiar with their role? How will our new manager gain the same level of knowledge as our previous manager? Who should residents reach out to in the meantime? How will financial matters and records be properly managed? And who will be in charge of ongoing activities and capital improvement projects?

Understanding the process of an HOA manager change is crucial in the association management industry. When a company utilizes a management team approach, information about your community does not solely rely on one individual. A regional director or senior leader who closely collaborates with your manager will have direct connections with board members and a comprehensive understanding of your community's requirements, initiatives, and challenges. They will ensure a smooth transition while your new manager becomes acclimated. Additionally, local and regional support specialists in accounting, human resources, and technology will also possess valuable knowledge about your community.

Stephanie Parker, vice president of operations at FirstService Residential, said, "Of course, the relationship between boards and their manager is key, but the broader support that both your manager and your community get from the company is just as, if not more, important."

A great management company can also make it easier for the management team to share knowledge and stay up to date by implementing a secure technology platform to centralize your association's information. For instance, FirstService Residential Connect, a proprietary and secure technology platform, saves valuable information and tasks related to your community or building. This way, whether your current manager leaves or simply takes a day off, a team of equally informed associates can access that information to quickly get up to speed about your community.

Your management company should provide your community with answers and peace of mind during this transition process via a strong support system that includes:
Accounting team
Community support teams
Regional director or senior leader and operations team
Specialized administration team
24/7 customer care center
HR team
To learn more about the value of a management team approach, read the article, Is Your Association Manager Equipped for Success? 3 Questions to Ask.

When a manager (or staff member) changes, how do we find the right replacement?
Finding the ideal candidate for your community's management roles requires a strategic approach. To start, your management company should establish a compelling framework by offering training, fostering a positive work environment, and providing extensive benefits. This will ensure they attract exceptional candidates right from the start. Additionally, the presence of an efficient support team within your management company, comprising a proficient HR department and a dedicated recruiting team, is crucial for a seamless transition and successful replacement.

By involving the regional director or senior leader throughout the entire process, they gain insight into your community's unique characteristics and expectations. Their understanding of the intricacies within community relationships is crucial. This knowledge enables them to effectively assign the most suitable manager for your needs.

Effective management companies prioritize efficient onboarding procedures, comprehensive training resources, and effective communications strategies to ensure the satisfaction of residents, vendors, and other stakeholders. Through hands-on training, online courses, and mentorship programs, managers are equipped with the necessary knowledge and best practices to excel in their role. This approach not only minimizes community disruption but also ensures consistent, exceptional service, regardless of the assigned manager.

How can we effectively communicate staff changes to our residents?
During staff changes, maintaining effective communication becomes crucial. A reliable management company understands the importance of keeping you well-informed throughout this process. It is essential to communicate staff changes to your community through multiple channels of mass communication. By utilizing various platforms, you enhance the likelihood of residents receiving the message. Once a new manager is selected, consider organizing a virtual meet and greet for residents to personally meet and become acquainted with their new manager. Work with your management company to come up with an effective communication plan using these channels:
Community website
Email
Text messages
Virtual conferences
Finding the right manager for your association is crucial for the future success of your community and your partnership with the management company. The transition of responsibilities plays a significant role in setting the tone. Hiring a manager with the appropriate expertise and skill set can have a positive impact on your community. It is also essential to recognize that a fresh perspective can bring valuable contributions to both your community and its residents.

Change may be inevitable, but when handled properly, it can be an opportunity that revitalizes residents' energy and benefits your entire community.
Disclaimer: This article is provided for information purposes only and does not constitute legal advice. Consult with your association attorney.