HOA Maintenance Responsibilities, Capital Improvements, and Useful Life: Is Your HOA Prepared?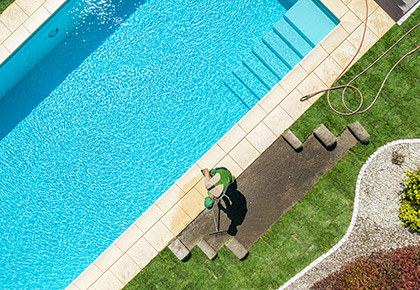 "Should we fix this component…or replace it entirely?"

"Is this maintenance job becoming a capital improvement?"

"How can we extend a component's useful life?"

"What exactly are my HOA maintenance responsibilities?"

Are you familiar with these questions? In a homeowners' association (HOA), it is important for your property's components to function smoothly and look good. This involves routine maintenance, repairs, and capital improvement projects. To properly fund these activities, it is crucial to understand the difference between routine maintenance and capital improvement, how they work together, and the concept of useful life and reserve studies. Enhance the longevity and appearance of your property with a deeper understanding of these essential factors.

If you're like many residents (and even board members) who live in HOAs across California, you may not understand every single thing about maintenance, capital improvements and useful life. Not to worry! We're here to explain the relationship between maintenance and capital improvement projects and how you should partner with your California HOA management company to budget for them. And to make sure your management company is on the same page with you in terms of HOA maintenance responsibilities and budgeting projects, read our article, "React, Outsource, or Prevent? Find Your Association's Maintenance Style."
What's Considered Maintenance?
Let's review what day-to-day and preventative maintenance entails. These important activities aim to restore components to their original condition and prevent further deterioration. It is crucial to allocate funds in your budget to cover these expenses under the "Repairs & Maintenance" (R&M) category.

By implementing proper maintenance practices, you can significantly increase the longevity and functionality of your components. For instance, routine repairs to your irrigation systems, landscaping endeavors, timely touch-ups on hallway paint, regular cleaning of your pool, and the prompt replacement of light bulbs are all classified as maintenance jobs carried out by your trusted HOA property management company.
What's Considered a Capital Improvement?
Capital improvements are significant replacements or repairs that boost the market value of a component beyond its original or current state. These projects are typically undertaken to reduce future operational costs or enhance the quality of service for residents. Examples include replacing a building's roof, upgrading to an energy-efficient ventilation system, or installing LED lighting throughout a community.

Investing in capital improvement projects can strain your operational budget. Instead, consider utilizing your reserves to fund these costly endeavors. To ensure efficient planning and collection of funds for such projects, engaging a reserve study specialist is crucial. With their expertise, you can identify which components require replacement, estimate their remaining useful life, determine project costs, and calculate the annual funds necessary for your reserve fund. Make informed decisions and secure the financial stability of your association with a comprehensive reserve study.
How Do You Determine "Useful Life"?
The amount of time that a component will serve its original purpose is referred to as its "useful life." "Every component has a useful life given to it by the manufacturer," said Rodney Riepenhoff, reserve study specialist and corporate engineer for FirstService Residential.

Determining the lifespan of a component is essential for manufacturers. Despite their estimations, various factors can impact its actual useful life. These factors include additional wear and tear, regulatory changes, environmental conditions, and unexpected obsolescence.
How Do You Make Sure Maintenance and Capital Improvements Work Together?
How closely your management company adheres to the manufacturer's recommended maintenance schedule will significantly impact a component's actual useful life. Riepenhoff points out, "Many communities do not do all the required maintenance, often because of the cost."

Over time, this can actually result in higher costs for the HOA as it shortens the lifespan of the component. Replacing a component earlier than anticipated not only diminishes the return on investment (ROI), but also introduces unforeseen expenses for the new replacement. It is likely that the HOA's reserve fund may not have accumulated sufficient funds if the amount saved was based on a later replacement date.

The lack of an updated reserve study is often to blame when an HOA is unaware that its preventative maintenance has been inadequate. "Or the HOA hires a third-party vendor that is not doing the necessary work, and they have no checks and balances in place," said Riepenhoff.
How Do You Extend "Useful Life"?
Diligent maintenance can extend a component's useful life. For instance, if replacing certain parts on a component allows it to function more efficiently or if your materials are of a higher quality, the component is likely to last longer than expected.

One Los Angeles high-rise association learned about the relationship between HOA maintenance responsibilities and capital expenditures the hard way. Inadequate guidance and support from its community management company resulted in years of neglected preventative maintenance at the 228-unit high-rise. This included unresolved water drainage issues from the pool and surrounding area, which caused numerous leaks into the parking lot below. Riepenhoff evaluated the issue when FirstService Residential took over the HOA management services. While resolving the drainage problem did require a $120,000-capital improvement project, this was $280,000 less than a previously recommended improvement. Additionally, the association now has a maintenance plan to help prevent costly damage to the community in the future.

Riepenhoff does warn that it's possible to overdo maintenance. Some communities continue to maintain a component when it would be more cost effective to replace it. How do you know when it's time to replace rather than maintain? Riepenhoff said, "When the yearly cost outweighs the replacement cost, it's time to replace it."
Can a Maintenance Job Become a Capital Expenditure?
There are definitely times when your HOA receives the unexpected news that a maintenance job is not enough to resolve an issue. A deeper look into the problem might uncover surprises that turn the job into a capital improvement project. For example, you may have had a leak in your roof that you assumed required a simple patching. However, when your roofers examined the problem, they found more widespread damage that requires a roof replacement. Originally, the maintenance job would have been funded out of your operational budget. Now, your HOA will need to pay for the project out of your reserve fund. (Hopefully, you have the necessary money in your reserves.)
Which Criteria Differentiates Maintenance From Capital Improvements?
When to categorize an expenditure as a "maintenance job" versus a "capital improvement project" is a case-by-case determination. Some factors you should consider include:
The component's value

Your goal in performing the work

The scope of the work

The actual result

How the work will affect the component's value, equity return and depreciation
Take control of your community's future by optimizing your budgeting process. With a clear understanding of the importance of maintenance and capital improvement work, you can prioritize projects more effectively. Aligning your maintenance plan with capital improvements ensures a boost in your property value, while also enhancing the overall comfort, safety, and enjoyment of every resident. Invest wisely and see the lasting benefits for your community.