Checklist for a Pain-Free Move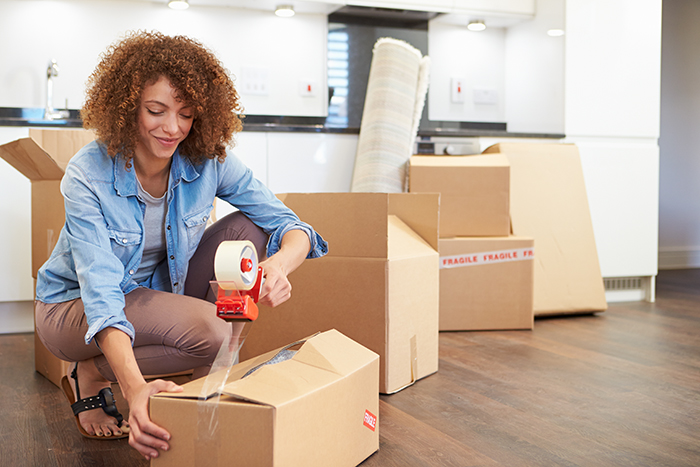 You're moving! That means an exciting new beginning. It also means a lot of work. But no need to stress out – following a simple checklist can prevent those moving migraines.
One thing you'll want to keep in mind: starting as soon as possible is the best policy. Good planning early on will save you some real heartache later. And though we've created a timeline that starts at two months out, your home closing may happen in as little as 45 days – just be sure to start the first items on the checklist as soon as you possibly can. Here we go…
Two months before your move.
1. Spring clean, no matter what the season.
When it comes to moving, less is more. Instead of seeing this time as a burden, look to it as an opportunity to clear out those unwanted items. Pitch ruthlessly, and seek out gently used items you can donate. Say goodbye to the junk drawer.
2. Find your mover.
Now's the time to start researching moving companies. Or, if you're moving yourself, shop around for the most affordable truck rentals. It's best to get your quotes in writing. If you're going with a moving company, make sure it uses a U.S. Department of Transportation number.
3. Organize records.
Start seeking out your records for medical, insurance, and financial matters. You'll want to have them handy for later on when you need to send out your records to providers and companies at your new location. As for academic records, get to your children's school now and arrange to have them transferred.
4. Make a moving binder.
This binder is going to be your best friend. Use it to track estimates, your moving inventory, expenses, everything. Refer to it in the coming months – right up through moving day.
Six weeks before your move.
5. Order moving supplies.

You're going to need boxes, packing tape, and bubble wrap, just for starters. Take a look at your belongings and see if you'll need specialty packaging for breakables, antiques or clothing. Note that if you've contracted with a moving company, they may require that they do the packing, just for insurance purposes. In that case, they'll bring the supplies.
6. Measure once, save twice the frustration.
If you can, get the measurements of the doorways in your new home. Then measure your belongings. That way you'll avoid any nasty surprises when it comes to trying to wedge your over-stuffed sofa through the new living room door.
One month before your move.
7. Book your mover.
Now's the time to contact your mover of choice and make all the arrangements. Don't leave anything in question – be sure to get the date, costs and other details down in writing. If you're not hiring a moving company, this is a good time to reserve your truck.
8. Review your insurance.
If you believe your belongings will require additional insurance during the move, this is a great time to get that coverage. Talk to your moving company to sort out the details.
9. Make some notifications.
This is the time to do a change of address with the post office. You can even download the form at usps.gov. You'll also want to let your bank, financial entities, credit card companies and magazine/newspaper publishers know about your upcoming move. This is a good time to forward your medical records, too.
10. Pack.
Pack a little bit every day, room by room. Pay attention to any items that may require moving insurance. Clearly label each box, and note where it needs to go in the new home. Take this opportunity to put your valuables in a special lock box that you'll carry with you personally when you move.
11. Talk to your association.
It's the perfect time to check in with your homeowner association to be sure that you don't have any outstanding issues to clear up before you depart. You'll also want to contact your new association, if you have one, to see if there are any specific rules you need to follow when moving in (such as where to park the truck, where to discard your trash, things like that).
Two weeks before your move.
12. Get major services handled.
Choose this moment to get your car tuned up and adjusted to a new climate if you're moving somewhere where the weather will be different. Make sure none of your major appliances need repair before loading them up.
13. Clean out your safe deposit box.
With moving day coming up soon, this is the time to get those valuables and put them in your home lock box. Remember, this box stays with you during your move.

One week before your move.
14. Pack a suitcase for moving day.
You'll need something to wear for a few days while you're busy unpacking. To avoid potential wardrobe frustrations when you're in the midst of your move, it'll be handy to have a few things available right from your suitcase. Be sure to include your digital camera in your suitcase, too – you'll want to create a photographic record of any property damage that might occur during your move.
15. Mind your health.
Do you have prescriptions that you'll need available once you move? Go ahead and get everything refilled now. That way there's no gap in your treatment.
16. Get payments in order.
Be sure you've got the financials squared away with your moving company. Again, avoiding surprises is the name of the game.
Moving Day!
17. Get your move on.
When the moving truck arrives – if you've contracted with a company – make sure the USDOT number on the truck matches the one on the estimate the company provided to you. This will help you avoid scams. Keep your binder handy during the load-up, and ensure everything you've packed makes it on the truck. Make sure the movers provide you with a bill of lading or inventory list before they leave.
Remember, it's your move – and you can make it happen your way. Just follow the hints here and you'll be on your way to the best destination of all: a hassle-free relocation.To learn more about how a property management company can help your association make moves easy,
contact FirstService Residential
.