Five Winter Organization Tips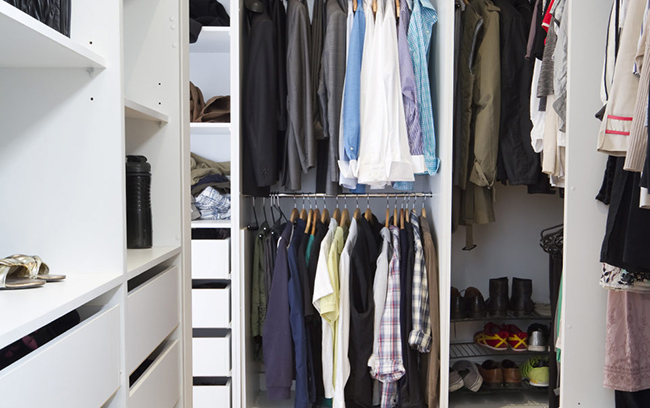 Winter's coming, and with colder temperatures comes something that isn't cool at all: disorganized closets and cluttered winter gear.
Not to worry, though. You can snowplow through your winter of discontent with some simple organization tactics brought to you by California Closets, the largest custom storage franchise-based company in the world. That way you can keep things orderly, make sure your gear is accessible, and ensure a season where you put the freeze on frustration.
Here are some winter organization ideas we think you'll really warm up to.
1. Keep your closets in season.
One mistake a lot of people make is treating their coat closets like a catch-all for everything. That means spring jackets, fall sweatshirts and bulky winter coats all end up fighting for space in a single place. This is a recipe for frustration and disorganization. When the seasons change, rotate the contents of your coat closet. Store those out-of-season items in an out-of-the-way place.
2. Be compartmentalized.
Think back to last winter. How much time did you spend searching for a lost glove or mitten? Chances are it's because, like a lot of people, you placed gloves and scarves in one giant bin. It's one of the great mysteries of the universe, but for some reason this tactic is a sure-fire way to end up with lonely singletons instead of tidy pairs. As a solution, try storing gloves, mittens and scarves as sets inside compartments, much like you do with shoes.
3. Get hooked.
With winter weather outside, there's more of it inside, too. You'll find your family tracking in more mud and snow and slush throughout the season, so it's a good idea to create a system where you're not storing certain items on the floor where they can get soiled or wet. Install hooks, and keep things like backpacks off the floor where they can stay dry.
4. Gear up.
Let's not forget about winter fun. Skiing, snowboarding and hockey are pretty much what a lot of people live for during the cold winter months. But storing all that gear can be a living nightmare. If it's leaning against a wall or jumbled in a corner, then it's hard to access and frustrating to get to. To simplify things, think about your winter gear the same way you view your gardening tools: as something that should be mounted to the wall. You'll find that by getting your winter gear off the floor and out of the corner, you'll enjoy winter fun without the frustration.
5. Make a wet zone.
There's nothing worse than hanging a wet raincoat in a closet, right up against your dry articles of outerwear. Keep the wet stuff in a dedicated area of your home, like an entryway or mudroom. Make this space more practical and workable by setting up bins, hooks and hangers so items can be stored and organized neatly. This should be a highly usable area of your home where it's easy to come in from the cold, stow away the wet items, and move into the warmer and drier areas of the house. Of course, every home – and every family – is as unique as a snowflake, but even if you don't have a dedicated entry or mudroom, creating an entryway system will go a long way toward keeping things nice and dry.
Every season has its challenges, and winter is no different. But if you remember these winter organization tips, you'll skate through the season knowing your home is ready to weather everything this time of year sends your way.