Is High-Rise Condominium Living the Right Choice for You?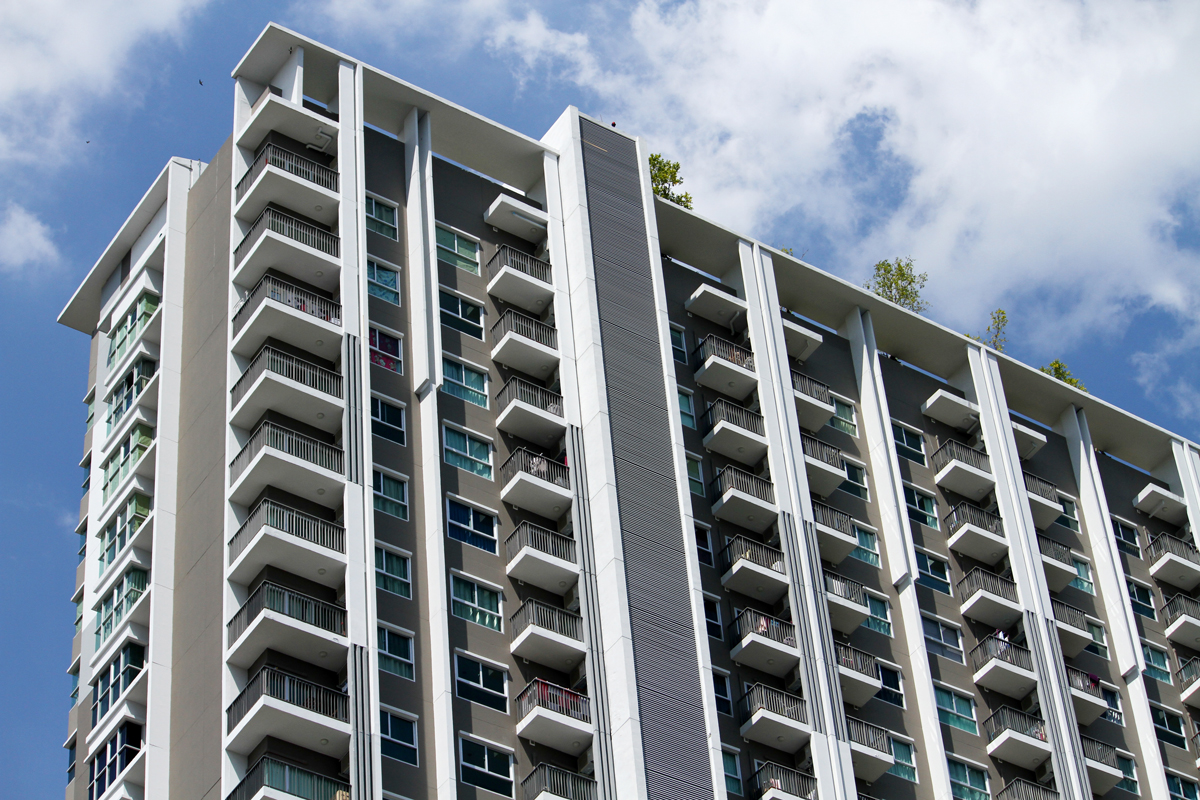 You're just starting out and excited to buy your first home, or perhaps your kids have left the nest and you're finally able to downsize. In this active housing market, you've got lots options and things are definitely looking up – so maybe you should, too. We're talking about vertical living, a.k.a. a high-rise condominium. Could high-rise condo living be right for you?
Let's start with location, location, location. Many people are attracted to high-rise condos for their locations – often convenient to cities, business districts and cultural centers – as well as their scenic views, especially from higher floors. As a condo owner, you can enjoy a wide selection of on-site amenities that may not be affordable or available in single-family homes, like a swimming pool, fitness center, front desk and concierge services and more. You also won't have to worry about many of the maintenance and upkeep chores you'd have to handle in other types of housing, like mowing the lawn, repaving the driveway or shoveling snow. Additionally, many high-rise condominiums hire professional property management companies to make sure the building operates efficiently and remains well-maintained, clean and beautiful, so you'll have peace of mind that your investment will be protected.
For many people, the advantages and benefits of high-rise living make it an irresistible choice. But is a high-rise condo the right choice for you? Let's take a look at several other factors:
Condo Amenities
We already touched on common high-rise amenities, but they're worth another mention since they're one of this sector's greatest draws. Amenities can range from the previously discussed pool and exercise facilities, to upscale features like 24-hour valet services, roof-top gardens and decks, yoga classes, wine cellars and more. If luxury amenities are important to you and fit your desired lifestyle, high-rises are a great option.
Storage
Speaking of luxury, space is usually at a premium in high-rise buildings. Monthly HOA fees or condo fees are typically based on each unit's square footage, so if you have a lot of stuff, you may be paying more to house it. Many buildings offer storage space – sometimes free, sometimes for a price – so if you're a collector, you may need to pare down, pay extra to store it or look at a different type of housing.
HOA or condo association – High-rise buildings are typically governed by associations, made up of volunteer homeowners who stand for election to the Board of Directors. The Board is responsible for handling the building's operations and maintenance, including enforcing rules to ensure a harmonious living environment and quality of life for residents. So while you won't be able to blast your music late at night or paint your front door an eye-catching color, the good news is your neighbors can't, either.
HOA fees or condo fees
So what about those condo fees we talked about earlier? Condo owners must pay monthly, quarterly, semi-annual or annual condo association fees to cover building upkeep, maintenance, repairs, insurance, staff salaries and, if used, the services of a professional management company – and that's how lifestyles are enhanced and investments are protected. If you're feeling iffy about paying dues, consider how much you'd otherwise pay for services that are often included in a high-rise, like cable, insurance, maintenance and repairs, lawn care, trash pickup, fitness club membership and more.
Pets
According to the Humane Society of the United States, 62% of households include at least one pet, so if Fluffy or Fido are part of your family, you'll need to find a condo that allows common domestic pets. Fortunately, many do – just be aware of quantity and/or weight restrictions – and some even offer pet-friendly amenities like dog walking areas and on-site waste disposal bags. On the other hand, if you're not a pet lover, you can easily find a building that restricts all pets, or at least those over a certain size.
Parking
Many residential condos come with one or more assigned parking spaces, indoor or outdoor, depending on the building, the size of the unit and the location. If the number of cars in your family exceeds the number of available spaces, you may be able to buy or lease additional spaces. And since many high-rises are located in urban areas with readily accessible public transportation or business centers and nightlife within walking distance, you may even find you don't need a car after all.
While high-rise condos offer homeowners a wide variety of desirable features and benefits and a unique lifestyle, it's important to consider all of the factors we mentioned, plus many more, before you decide if high-rise living is right for you. For more information,
contact FirstService Residential
, the high-rise management leader.
Now that you understand more about high-rise living, learn how board members are taking their buildings to the next level by delivering amenities and services that fit the needs of their residents.
Sign up to download
our white paper, and learn how partnering with a professional property management company can enhance the overall lifestyle of residents.
{^widget|(name)BizForm|(image_guid)c99e75ad-dce9-4cf0-a561-79e249ffd41c|(bizformname)FSRCorporateCTAFormHighRiseLifestyleCM|(widget_displayname)On-line+form|(width)|(height)^}