Customized Asheville Property Management & HOA Solutions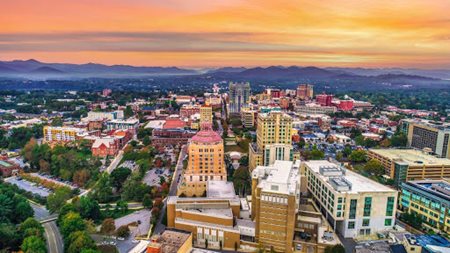 FirstService Residential has been providing leading Asheville property management services successfully for the past 2 decades. Our local team, coupled with our company's depth of resources, technology and subject matter experts, provide a deep commitment to enhancing the property value of every community and the lifestyle for every resident we serve in the local region.



Our team of local professionals provides the highest quality property management services and are committed to enhancing the property value of every Asheville community and the lifestyle of every resident. We understand the needs of property owners, board members and residents. Each of our customers, no matter where they are located in/around Asheville, receive personal and individualized service from our dedicated, professional property management team. With our help, you can reach your property management goals and take the stress our of managing your community so you can continue to enjoy everything North Carolina has to offer.
Across our North Carolina offices, every member of our team shares a unified commitment to service – part of our mission to deliver exceptional service and solutions that add value to your Asheville property. Through our customized Asheville property management services, our goal is to make a difference, every day, for those in our care and we have become the industry leader by adhering to the values upon which our company was founded four decades ago.
About the Area
The city of Asheville combines modern progressiveness with a taste of old world charm with plenty of options for entertainment. Downtown Asheville is vibrant with new construction and an art-deco city hall. It is also home to the Montford Historic District which features Victorian homes like the Biltmore Estate.

The arts are also highly influenced by this duality. Asheville is home to an eclectic mix of artists showcasing everything modern urban art like mural painting to the more traditional sort like pottery and ceramic arts. Music is influenced by old-time mountain music and fused with newer sounds like blues and folk. The landscape is also diverse in Asheville. With breathtaking mountain views and proximity to two rivers, Asheville offers many opportunities for outdoor recreation like camping, fishing, and water sports.

With such a broad spectrum of activities, FirstService Residential knows you will be making a lot of memories here in Asheville. That is why we are here to deliver quality property management services that will add value not only your property -- but to the quality of life in your community as well. For over 26 years, we have been providing our best-in-class services to the area and beyond and it is our expertise that sets us apart as the leader in the property management industry.

As the largest city in Western North Carolina, approximately 83,000 live in Asheville communities. And as part of such a dynamic city, needs and types of communities vary greatly. FirstService Residential has the expertise needed to craft customized Asheville property management solutions that help Asheville residents improve their lifestyles, every day.
FirstService Residential serves all of your Asheville property management needs including:
• Comprehensive accounting services and financial reports providing for transparency, security and accountability.
• Enforcing CC&Rs and Rules & Regulations
• Obtaining insurance and overseeing claims processing
• Standard operating procedures to ensure uniform and consistent operations related to collections, governance, property maintenance, and lifestyle services.
FirstService Residential also offers unique value-added services like:
• Best-in-class associate training and education programs for associates and board members
• Proprietary technology products
• Value-added products such as collective buying programs that reduce vendor costs
• Advanced product expertise & innovative services
• Customer-focused associates and a 24/7 customer care center at no additional cost to the association to make certain you have dedicated service.
We offer a wide range of rental management services to best keep up and maintain the value of your investment property. Trust us to take care of it for you—we manage your property as if we own it ourselves.

Contact us and learn how FirstService Residential can add value to your Asheville area community.
Get the Latest News and Resources
Receive valuable insights and informative resources for your community! Sign up below.