7 ways to make the most of HOA living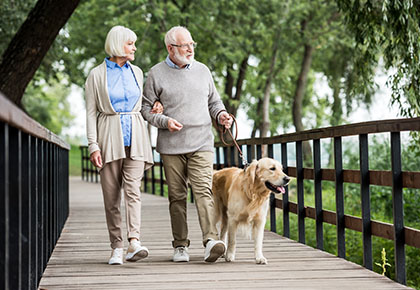 Homeowners' Association (HOA) living has become increasingly popular in recent years. It offers numerous benefits, including well-maintained common areas, enhanced property values, and a sense of community. However, to truly make the most of living in a community association, it's essential to understand how to navigate its rules and regulations while fostering positive relationships with your neighbors.
If you're new to association living, here are some quick tips to help you understand your new lifestyle choice and maximize what your community offers.
What is an HOA?

If you're not sure what your association is or does, we're here to help. Your association comprises all of your community's homeowners – you became a member when you bought your home – and you and your neighbors have voting rights and a voice in setting its course. Your association is led by its Board – other homeowners who have volunteered to serve your community by making and enforcing its rules and policies (see below), collecting dues, and ensuring its facilities and common areas are well-maintained and attractive.

To learn more about what a homeowner's association is, read our article "What is an HOA? FAQs about Homeowner Associations."


Get acquainted with HOA rules

Every HOA has a set of rules and regulations designed to maintain the community's appearance, safety, and property values. To make the most of HOA living, take the time to thoroughly read and understand these rules. Familiarize yourself with guidelines for landscaping, architectural changes, noise restrictions, and more. Compliance not only ensures harmony within the community but also helps maintain your property's value.

So be sure you understand them – ideally before you buy your home or move in – to ensure these are policies you can live with. Your association's go-to guides are the Governing Documents (Articles of Incorporation, Declaration, Bylaws, etc.), which provide comprehensive information on the association's operations, as well as the Covenants, Conditions & Restrictions (CC&Rs), which detail its policies and procedures on architectural guidelines, pets, parking, noise, amenity usage, rentals, HOA fee schedules, non-compliance fines and much more.

To learn more about your association's bylaws, read our article "Navigating HOA bylaws: Can your HOA change its bylaws?"


Get involved

Participating in HOA meetings is an excellent way to stay informed about community developments and contribute to decision-making processes. It's a chance to voice your concerns, suggest improvements, and be part of shaping the community's future. By actively engaging with your fellow residents and the HOA board, you can play a role in making your community an even better place to live.

You also have the option of joining the board of directors. HOA board members are entrusted with making decisions that impact the community's well-being and are elected by a majority vote of members at the annual meeting. Other ways to get involved are by volunteering to help with a project or joining a committee that interests you.

Many HOAs have committees dedicated to specific aspects of community life, such as landscaping, social events, or architectural review. Volunteering for one of these committees can be a great way to get involved and make a positive impact on your community.


Build positive relationships

Building strong relationships with your neighbors can greatly enhance your HOA living experience. Take the time to get to know your fellow residents by attending community events, joining social clubs, or simply introducing yourself to new neighbors. A sense of belonging and camaraderie can make your community association feel like an extended family.


Pay HOA fees promptly

HOA fees fund the maintenance and improvement of common areas, which contribute to the overall appeal and value of the community. To ensure these amenities remain in excellent condition, it's crucial to pay your dues promptly. Timely payments also help the HOA operate smoothly, preventing potential financial strain on the association and your fellow residents.

To learn more about HOA fees read our article "What Is An HOA Fee? And What Does Your HOA Fee Cover?"


Stay Informed

Stay informed about community news, updates, and events by subscribing to newsletters, joining online forums or social media groups dedicated to your HOA, and regularly checking the HOA website. Being in the loop ensures you don't miss out on exciting community events and helps you stay connected with your neighbors.


Be a responsible neighbor

Responsible neighborly behavior goes a long way in fostering a harmonious HOA community. This includes being mindful of noise levels, adhering to parking regulations, and promptly addressing any concerns or maintenance issues on your property. Being considerate of your neighbors' needs and concerns will create a more pleasant living environment for everyone.
What are the cons of living in an HOA?
When you live in a community association, being a homeowner or shareholder doesn't always make you the final decision-maker. This can extend from exterior decorations and upgrades to the number of guests you can bring into the common areas. Associations create rules that you and your neighbors must follow to protect your interests, investment, and your quality of life. Most associations hire professional property management companies to manage their day-to-day operations effectively. One example is FirstService Residential, a North American property management company that hires industry experts to serve its communities.
What is the point of living in an HOA?
Living in an HOA community association can be a rewarding experience when approached with the right mindset and an understanding of the rules and responsibilities involved. By actively engaging with your HOA, volunteering, building positive relationships, and being a responsible neighbor, you can maximize the benefits of HOA living. Ultimately, your involvement and commitment can help create a thriving and vibrant community that you'll be proud to call home.
Partner with a professional management company
In many HOA communities, partnering with a professional management company can be a game-changer when it comes to ensuring the smooth operation and overall well-being of the association. It can significantly enhance the quality of life in an HOA community due to their expertise, financial management, administrative efficiency, conflict resolution skills, vendor relationships, and time-saving benefits, which are invaluable assets that contribute to the overall success and well-being of the association. When the HOA board and management company work together effectively, residents can enjoy a well-maintained and harmonious community, making the most of their HOA living experience.
To learn how FirstService Residential is supporting communities like yours,
contact a member of our team
.