Effective Tips to Enhance Your Building Lobby Design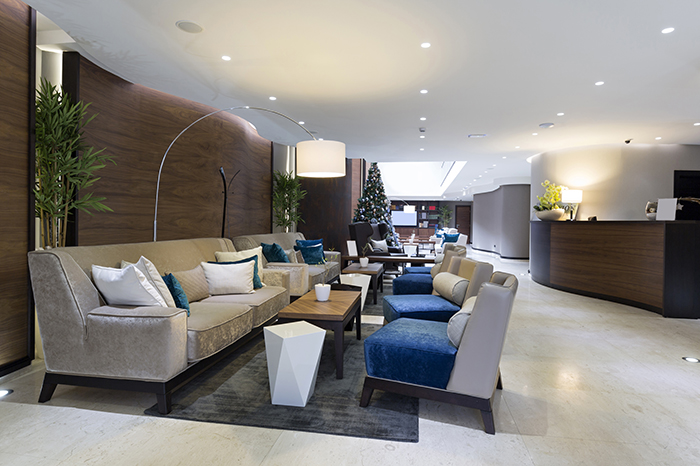 We've all heard the old expression, "You never have a second chance to make a first impression." While that sentiment usually describes how people present themselves to others, it can also apply to places and things that create a lasting first impression. One of those things: the lobby of your apartment building, high-rise or other multifamily building.
The lobby of your building is like the doorway of your home – a welcoming entryway that sets the ambiance and creates a lasting impression for residents and visitors. Residential lobbies come in a wide variety of styles – everything from grand and luxurious, to stylish and contemporary, to hip and minimalist, to simple and functional – or anything in between.
On the flip side, lobbies that are dirty, worn out or outdated can indicate a general lack of care and service throughout the building – certainly not a desirable impression for residents and visitors, and especially, future homebuyers.
As a Board member, you want your building's lobby to be aesthetically pleasing and inviting, but also safe and functional – after all, as the hub of your building, it provides essential services and can even become a social gathering place for residents and guests. So if your building lobby isn't as attractive or functional as it could be – and doesn't portray the impression you'd like it to – we have some suggestions that can help.
1. Security
In addition to aesthetic concerns, the primary purpose of your building is to safeguard and protect residents and guests. If your building has a full-service lobby, with a doorman, front desk staff and a concierge – or some combination of these roles – it's essential that the staff is highly-trained, service-focused and properly licensed, if required by location or function. If your building is professionally managed, your property management company can oversee the process of recruiting quality staff and ensuring they are properly trained and licensed.
If your building's lobby is unmanned, keeping residents safe and enhancing their security is more challenging, but just as important. If your association has adequate funding, you can install a key fob or magnetic card system for residents, and/or a video system to record who is coming and going. If budget is a concern, at least make sure you have a high-quality deadbolt installed at every entrance.
If your building utilizes a buzzer system for visitors, be sure it's located in a well-lit area inside an outer entry door to enhance their safety. Good lighting is also important throughout your lobby, as well as directly outside the building, to discourage loitering and enhance safety. Lighting can be motion-activated or constant – look to LED lighting to maximize cost and energy-effectiveness.
2. Package retrieval.
Package delivery and retrieval is an everyday activity in multi-family buildings, so be sure there is adequate space set aside for this purpose. If your building has a front desk staff, team members can sign for packages and notify residents of their arrival – many buildings utilize phone, email or virtual notification systems.
If your building is managed by a property management company, it may offer specialized building management software that automates this process – for example, FirstService Residential's Connect system tracks package deliveries and instantly notifies residents.
If your building is not staffed, be sure your package area is secure, whether you utilize a separate area for packages or have residents retrieve their parcels in lockboxes.
3. Décor
The same way a little creative décor tricks can beautify your home, creative design can go a long way to making your lobby more attractive and welcoming to residents and guests. The right furnishings and ambiance can turn your lobby into a hub for building residents to interact – think comfy chairs or couches in stain-resistant fabrics, and cocktail tables with interesting and colorful books and magazines to encourage browsing. Even if visitors don't linger, the right décor will even create a positive impression for those who are waiting for the elevator.
A good rule of thumb is to furnish your lobby with smaller and lighter pieces with clean lines and less bulk – that will help portray a sense of airiness and space, and won't create obstacles or hinder traffic circulation. On the other hand, if your building is classically and ornately styled, similarly grand furnishings will help enhance the theme. But no matter your style or décor, adding glass and mirrored surfaces, as well as mirrors in smaller areas like elevators and hallways, will both visually enlarge the space and maximize visibility as well as security.
4. Flooring
While aesthetics are always an important consideration for building lobbies, and that includes flooring. But it's even more important your lobby flooring is durable and always looks good, despite constant traffic and the daily tracking in of dirt and mud from people and pets.
It's also very important that your floor surfaces aren't slick and slippery, especially in wet or snowy weather. If your lobby isn't carpeted, be sure to put out non-slip mats in nasty weather – that will not only help prevent slips and falls, but also, protect the floor from water damage. If your association is in the market to replace your lobby's flooring, there are many options that both look good and wear well. Depending on your budget, you may want to consider some of the newer vinyl surfaces (you'd never know it), wood laminates or hardwood or even contemporary materials, like concrete or stone.
The lobby of your building serves many functions, from creating a first impression for residents and visitors, to ensuring security, to serving as a social hub to providing essential services. Now that you understand how to build a more welcoming entryway, find out how you can take more of your building's amenities to the next level.